My Mt. Bonnell Cycling Adventure….Thanks Toyota
I'm always up for something new and exciting, so when I heard about the Toyota RAV4 Adventure Club event going on at MapMyFitness I decided to take part in it.
There is a contest component to this event, and they are giving away a Tom Tom Go Live to help you navigate your future wild adventures, but I was more interested in making this a chance to try out something different.
The idea behind this contest event is to get people creating new routes in their area (either bike, hike, walk, or run routes) and then sharing them with everyone in the Toyota Group within MapMyFitness.
All you have to do in order to get in for the Tom Tom Go Live draw is join the group and participate by sharing an unexpected adventure that you had by taking part.  There's also the chance to win a $500 Visa Gift card and that is going out to the person who creates a new route, shares it with their friends, and get the most VOTES.
More details on the contest side of things can be found at http://www.mapmyrun.com/people/groups/toyota/ under the "How to Play" tab.
My Adventure
Okay, so with all the great cycling routes here in Austin I often find myself on the same old roads each time I go out.  So this Adventure Club sparked me to try something new.  I took a look around MapMyRide for a route that would take me somewhere I've never been before on my bike.  When I spotted this Mt. Bonnell route I knew that was the adventure for me.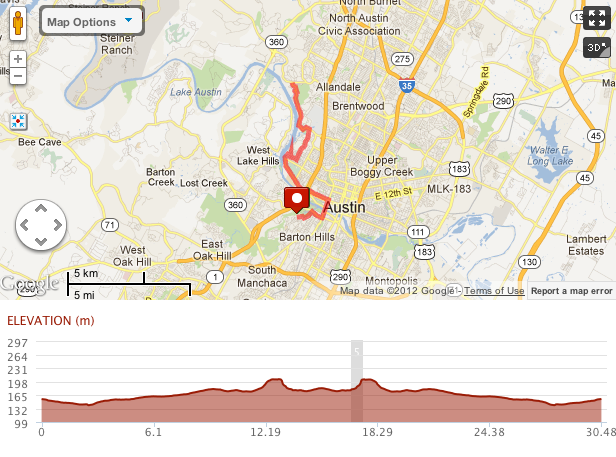 (More details on this ride can be found at http://www.mapmyride.com/routes/view/4531923)
It has a maximum elevation of 775 feet which isn't overly high for Austin, but we've been up there by car before and the views are spectacular.  I decided to take my commuter bike instead of my road bike because I thought I just might want to go off-road while I was up there.
The journey along to the Mt. Bonnell area was nice because it involved riding down a lot of streets that I've never been down before on my bike.  But the true adventure began when I got to the top of Mt. Bonnell.
(I totally forgot to bring along a camera for this adventure, but I peeled an image of the view off Wikipedia so you could see what's up there)
I walked my bike up the stairs that lead to the wicked viewpoints of the area and sat for a moment and took in the gorgeous Austin landscape, but this was supposed to be an adventure right?  So I did something just a little bit unexpected.  Instead of walking my bike back down the stairs, I set off along one of the walking paths to see if I could find my way down by bike.
I scraped along a few dry tree branches and almost bit the dirt a couple times, but it was a very enjoyable adventure.  It wouldn't have been anything big for my mountain bike friends out there…but for this roadie, it was a lot of fun.
Toyota motivated me to break out from the norm and discover a new route in my city. This experience taught me that there is an adventure waiting around every corner! Tell us about your unexpected adventure below for a chance to win a Tom Tom GO LIVE.
This is a sponsored conversation written by me on behalf of the Toyota. The opinions and text are all mine. Sweepstakes Rules.