My Ideal Commuter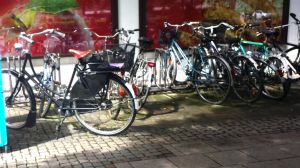 When I was in Munich recently I noticed something out of the ordinary for the US and Malaysia: everyone rode bikes. Sure there were lots of cars, too (mostly BMWs, Audis and Mercedes) but for many people the bike seemed to be primary transport.
Munich is definitely a pedestrian and cyclist-friendly city. The sidewalks/bike paths are integrated into the entire network. A lot of planning went into making sure you could bike around the city with minimal issues dealing with pedestrians and cars. While I wasn't able to cycle around myself, I was in awe of so many bikes, and this got me thinking about a commuter bike for myself.
Darryl's recent post about the Helios bars didn't help either, those things look sweet. I have a frame at home that will be turned into a commuter when I return to the states. Though my CX bike was sort of meant for commuting, I do want to race it one day. Thus, here is my list of ideal features for my future commuter bike.
moustache or bowed bars
fenders
mounted headlight and tail light
chain guard
internal gearing
rear rack
front rack or basket
mounted u-bolt lock
mounted frame pump
coffee cup holder
double kickstand
28mm tires
Yes I have some crazy things on my list, but it'll make this bike special and definitely 'mine.' What would you like to see on a commuter bike?
– Ashley