Nevis, A MTB'ers Honeymoon
Today's guest post comes from Deb Keiser.  She is a New York-based journalist who wrote this article about one of my favorite places on Earth, so I just had to post it. Formerly a staff travel writer for the New York Daily News, Deb contributes regularly to newspapers and magazines of the Hearst Conn. Media Group.
Nevis, A Mountain Biker's Honeymoon
– by Deb Keiser
For years I had dreamed that if ever again I should tie the knot, it would be on the tiny and exclusive island of Nevis, wedding capital of the Caribbean in the West Indies. Nestled close to her sister island, St. Kitts, Nevis has long been a wedding-honeymoon destination – a private tropical paradise where couples stroll hand in hand on quiet beaches and stay at high-end resorts that make honeymoons very sweet.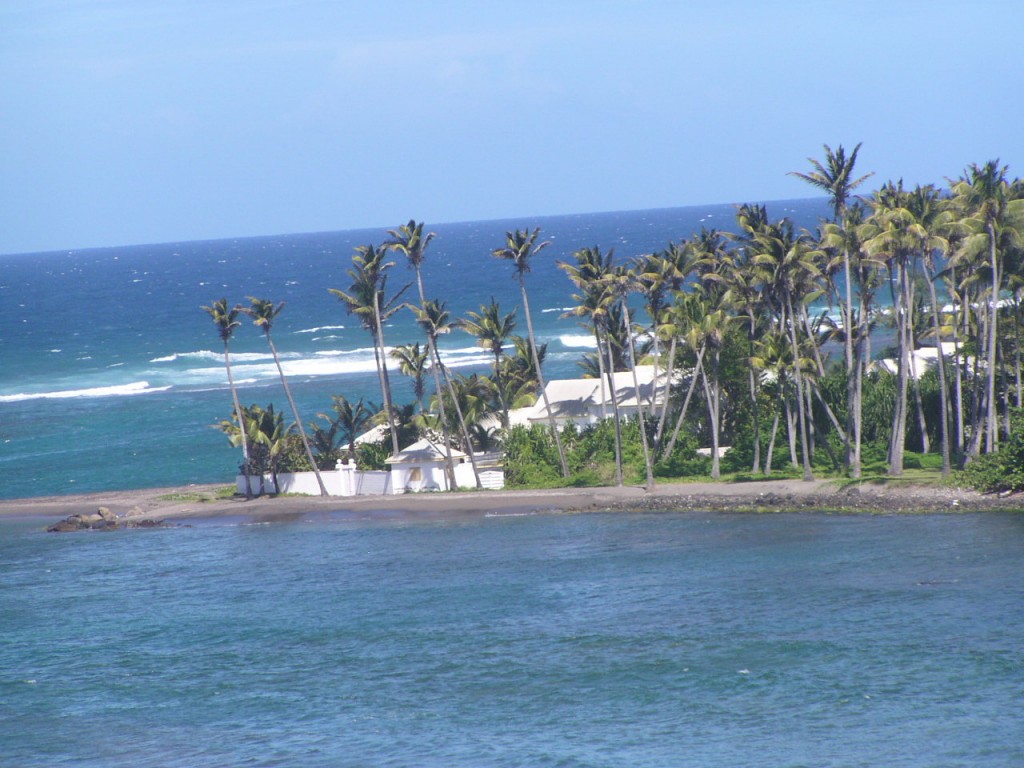 But dreams change, and so has Nevis. Now, although she is still full of romance, she's getting active and welcoming a whole new set of suitors.
In November, I made the trip with my boyfriend, David Wilson, but instead of a wedding dress, I packed my cycling gear – bike helmet, shoes and pedals, as well as some new bike jerseys. With Nevis Peak, a volcanic crater, looming high in the center of the island, Nevis is a perfect spot for cycling enthusiasts who want to explore lush mountain trails that once connected sugar cane plantations in the 1700s.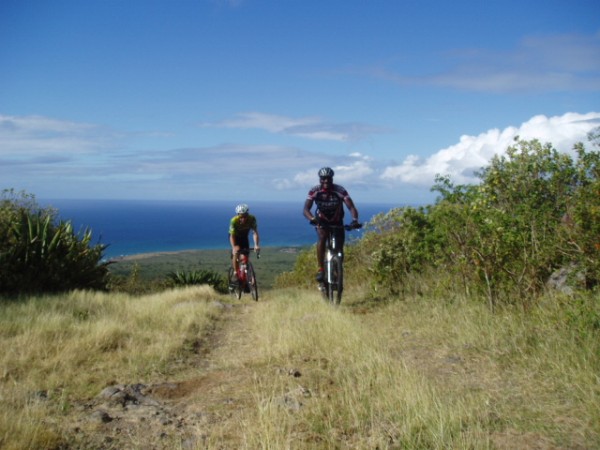 Yes, David and I were in Nevis for a week of mountain biking, not a wedding, and we arrive with a flourish that sets us apart from other visitors.
We fly from New York to St. Kitts, and then, under an open blue sky and a huge horizon, take a water taxi across the narrow channel that separates the two islands of this Federation. We get a good Nevis welcome: choice of Ting (local soda pop) or beer. This boat is moving fast, and it was a long trip. I go for the beer.
Our destination is Nisbet Plantation Beach Club, a historic resort that combines new guest cottages with restored colonial buildings. This was once the property of Lord Horatio Nelson who was in power in the late 18th century, when the British ruled.
But first, we make our way to Oualie Beach right off the dock to find Wheel World, the island's rental shop, and its owner, Winston Crooke, a tall, sophisticated man with a British accent and legs of steel, who has been expecting us. His shop has a good selection of Trek bikes, and with international triathlete Reggie Douglas who will be on hand as our guide, there can be no better combination.
Although Nisbet Plantation has sent a driver and a van to collect us and our luggage, David and I determine that it would be much more fun to start riding straight away and make the two-mile ride to Nisbet on bike. Crooke cocks his head, and shoots us a broad smile when we announce our plan, and then gives us the thumbs up. "Of course, sure, why not!" he says. "I am not sure it's been done before, but let's do it."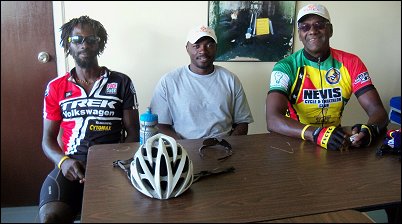 Reggie Douglas, James Weeks, and Winston Crooke
We change into our cycling shorts and shoes, and are quickly outfitted for our bikes. The driver grabs our bags, and we take off on a well-paved winding road, being careful to remember that here, since this was once a British colony, you ride with the motorists on the left side of the road.
We are the first ever – so we are told later –  to arrive by bike at the sixth best hotel in the world for 2010, and the Caribbean's top hotel according to Travel + Leisure's 2011 rankings of The World's Top 25 Hotels.
The beautifully restored Great House, which dates back to 1778, is our first impression of Nisbet Plantation as we arrive, an awesome colonial mansion where Lord Nelson entertained, and where guests also feel like royalty as they savor the fine cuisine and enjoy outstanding service during dinner and as they enjoy tea in the afternoon.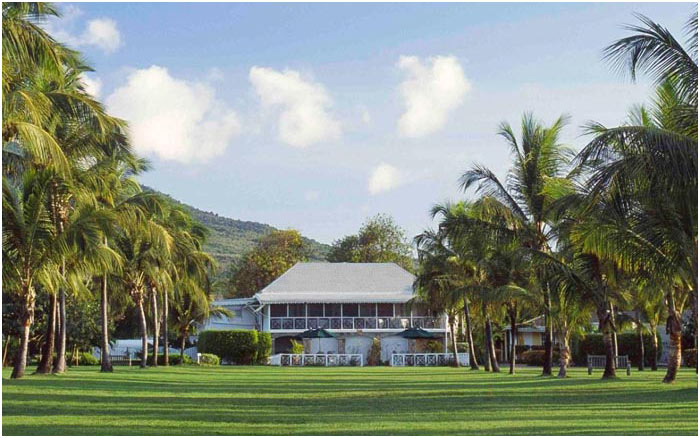 We park our bikes on some waiting bike racks, and make our way to our cottage, one of 36 units on the plantation. It borders the Avenue of the Palms, a breezy expanse of manicured lawn that runs right down to the ocean, which our patio faces. Behind us, Nevis Peak and its clouds provide an unparalleled vista. This may not be our honeymoon, but it sure is beginning to feel like paradise.
Dinner is outstanding, and the cocktails couldn't be better. I feel as though I could live forever, but knowing we ride tomorrow, we turn in early, and sleep like babes.
After breakfast the next morning at Coconuts, an open-air pavilion overlooking the pool and beach, we get started. Reggie with his dreadlocks and easy manners meets us, puts us at ease, and shows us the Nevis that we came to see. He is an island hero, and cheers of "Reggie, Reggie" follow us everywhere as we ride with him.
We begin on the road that runs around the island, but he soon veers off and we find ourselves on grassy trails that take us to the hills of the interior. I am not an advanced rider, so I am careful and hesitant. Reggie has been talking and laughing with us, but watching us, too, estimating our ability on the trails. The terrain, after all, for me is challenging. But soon I realize that he knows better than I do exactly what I can handle.
We go off road, I navigate well enough to feel comfortable, and we head to Cottle Church, built in 1824 by an Anglican priest to allow slaves and their owners to worship together. Now in ruins, the church beckons, and we put our bikes down. I look skyward where once a roof stood, and feel the sacredness of this place. We get very quiet as a breeze blows through the air, and I say a prayer of thanks for being here.
Another highlight of the trip puts us on bike trails that take us through pastoral fields of high grass, and Winston Crooke is with us for this ride. Soon, a decision must be made. Do I take the easy route, or challenge myself? Why make the trip if not for a challenge, right? So we head uphill. The ruts are deep, the road rocky. I am working as hard as I can to keep the bike upright and moving, and we ultimately get to a quarry called Maddens Estate. With the guidance of world-class riders Winston and Reggie, I get the advice I need to ride through the sand without incident. It is the best lesson I ever had.
Soon we are back on the road. I've done it. The rest is cake. Eventually I ask at what level I am riding, and the answer makes me smile: intermediate, and here, in Nevis, that's worth something.
Reggie gives us a history of the island as we pass old sugar mills, and we learn why Nevis was called Queen of the Caribbean: in the 16th to 18th centuries, she once was one of the area's biggest sugar producers. This ride is worth every bead of sweat – and there are more than a few – as we are rewarded with a view of the Atlantic from an area called the Potworks, once an estate. The island's medical school is nearby.
On another day, we visit old plantations, now boutique hotels. The killer bee, as Reggie calls it, is Zion Hill, a road that takes us to Golden Rock plantation, which has a honeymoon suite in a sugar mill. A stop at Montpelier Hotel is next, and then with a sense of accomplishment, we head back to Nisbet, where we have booked a massage for two in the Palms Spa. David and I may not be on our honeymoon, but here in Nevis, we are in paradise.
For more information on cycling in St. Kitts and Nevis, feel free to contact me or check out the following websites:
kathrynbertine.com/cyclist/st-kitts-and-nevis-cycling-federation