Off the Grid Bicycle Touring
I think anyone who does long distance bicycle touring is pretty awesome, but doing it totally off the grid like Rob Greenfield….is downright amazing.  This guy definitely has a Make it Happen attitude.  Please join me in reading all about Rob's ride across America, and what he hopes to accomplish along the way.
Off the Grid Coast to Coast Bicycle Tour
by Sean Aranda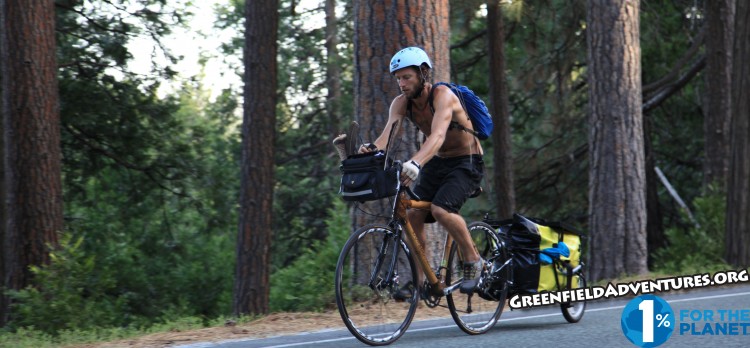 Cycling 4,500 miles across the USA, that's the easy part.  So what's the hard part?  How about doing it completely off the grid?  For three months, adventurer Rob Greenfield of Greenfield Adventures is showing and inspiring Americans how to live sustainably and decrease their environmental impact.  This means he is:
Using electricity generated by portable alternative energy devices
Creating near zero trash
Using water from natural sources
Eating locally produced organic and unpackaged foods
Composting all food waste
Shopping at businesses that are committed to creating a healthy planet
When Rob isn't managing The Greenfield Group, he is out picking up trash and living life as if it were one big adventure.  Having explored numerous countries and seeing how they live, he thought it was time to travel coast to coast across America spreading sustainability awareness.  What better way to show educate others than to show just what is possible when you put the environment first.
The adventure began at the San Francisco Earth Day Celebration on April 20th and will take Rob through 19 states.  Traveling mostly on 'blue highways', he will also be spending time in cities including Salt Lake City, Denver, Kansas City, St. Louis, Milwaukee, Chicago, Cleveland, Philadelphia, New York, Providence and Boston.  The journey is scheduled to end on August 1st at the 1% for the Planet Headquarters in Waitsfield, Vermont.  During the three month trip Rob will be raising $10,000 for 1% for the Planet non-profits, including Guitars in the Classroom and Below the Surface, as well as finding 20 new businesses to join the 1% for the Planet movement. 1% for the Planet is a growing global movement of over 1,000 companies that donate 1% of their sales to environmental organizations worldwide.
Rob is riding a beautiful bamboo bike by Bamboosero, filtering water through products by Drips Water  and powering his devices with portable solar devices by Goal Zero.
Along the way, Rob will be hosting zero waste events and bicycle rides, visiting environmental causes and businesses that practice corporate social responsibility, promoting sustainable products, working with community gardens, practicing the ukulele, and hosting do good giveaways via Facebook.
Rob is currently on day 24 cycling through the middle of America.  You can read all about his daily adventures by visiting The Greenfield Adventures Blog.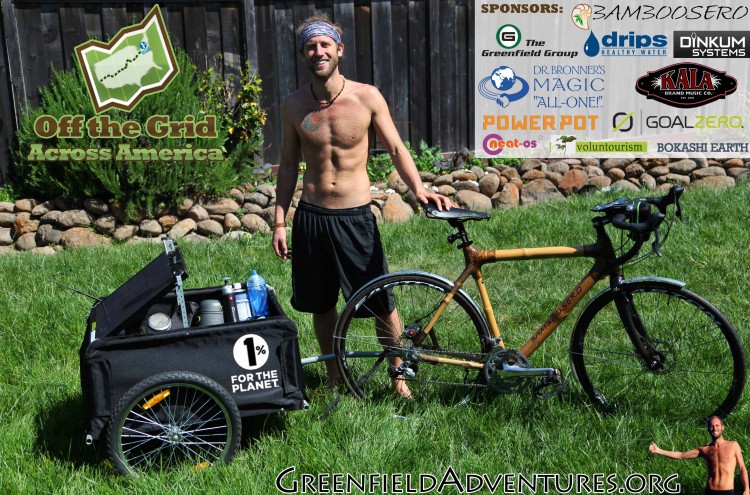 The journey is being documented by professional cameraman, Brent Martin, and can be followed pedal by pedal online at the Greenfield Adventures blog or by adding Rob on Facebook.  If you would like to donate to one of these great 1% for the Planet non-profits, feel free to contribute to the Greenfield Adventures Donation Page.