Panniers and Paninis
I've honestly never ridden a bike with a set of panniers.  I guess it's because I've never gone bicycle touring or had a reason to carry things with them on the ride.
But I have finally had a need for panniers, so I contacted my friends at Detours to see if they could set me up.  They have wicked good service and great products and they happily delivered me one Pike Place and one Georgetown Dry pannier.  You may remember Detours from the post I did about The Man-Bicycle Basket.
Okay, so first let me tell you why I wanted a set of panniers….there's actually two reasons.  First, I've wanted to make an overnight trip to the other side of the island and the panniers would allow me to pack all I need without having to carry a backpack or anything else.  Plus, I thought I would feel like a real bicycle touring dude if I had them.
The second reason is so that we could do Panini deliveries.  We aren't currently doing deliveries, but we have been known to un-officially deliver small orders by bike.  Having the panniers allows us to load them up with boxed up paninis and deliver them hot and fresh.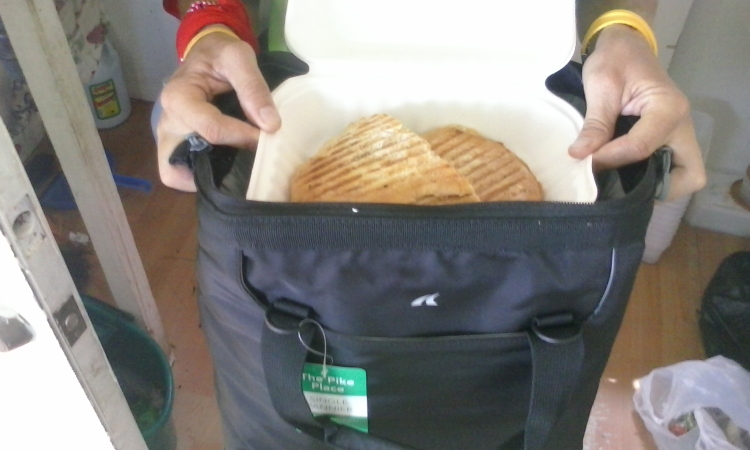 Our Panini boxes are the perfect shape and allow us to fit 3 paninis per pannier
As an inexperienced pannier user, I'm really not sure what features to look for….but here's what I like about the Detours bags.  Both the Georgetown and Pike Place panniers are great, but if I had to pick one over the other I would go with the Pike Place.  I like this one because it easily goes on and off the bike, includes a shoulder strap, and a rain cover.  These all come in very handy for the Panini delivery.
The Georgetown has a removable shoulder strap as well and actually has a bit more room inside than the Pike Place.  But overall, I would say the Pike is more functional.
Do you ride with panniers?  What features do you look for in a good set?