Pedal Power to the People
Last week and important rally was held on the Victorian Parliament Step of Melbourne, Australia. Cyclists gathered together to rally against the Baillieu Government's decision to cut funding for bike infrastructure to zero.  Even though I'm not from there, I support these cyclists and wanted to promote their efforts in "Bringing Back the Budget".
My friend Mark Beaconsfield was at the rally last Thursday and has put together this report and included some photos.  We're all in this together, and this battle going on in Melbourne is surely supported by cyclists worldwide.  I sincerely hope they bring back the funding in Melbourne and anywhere else that bike funding has been cut.
Pedal Power to the People
by Mark Beaconsfield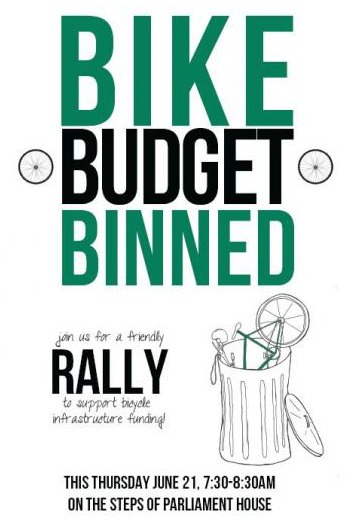 Anyone who knows me personally can tell I am not very politically minded.  But when an issue is close to my heart, I will stand up for my rights as a taxpayer and voter.  Recently, the state government of Victoria announced its spending budget.  One of the issues was they would cut bicycle infrastructure spending to zero.  This means no new bike paths, lanes, or even repairs to existing ones.After many letters, emails and reaching out to the Victorian Premier, Ted Baillieu, the cycling community was being ignored.  So what do we do?  We do what cyclists do best.
We took this fight to the streets!
It was a typical Melbourne winter morning: cold, windy and raining heavily.  Not the perfect weather for a bicycle protest rally. The Lycra has given way to long pants, jackets, wet weather gear and hi-visibility vests.  As expected in that sort of weather, the anticipated group of approximately 1400 cyclists was down to a few hundred of the bravest souls willing to stand up for the rights of all.
At 7.30am we gathered on the steps of parliament.  Cyclists of all types: commuters, weekend warriors, MAMILS, school children, recreationalists and racers. All wet, and shivering, but all with big smiles.  We were also joined by representatives of many bicycle user groups including cycling clubs, Bicycle Network Victoria and even members from Victoria Police bicycle squad.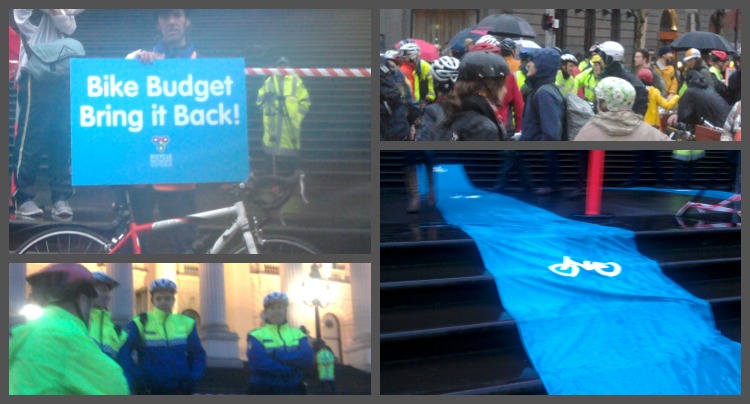 Speeches were made, pointing out that over 1 million people cycle in Victoria and that there would be another million people riding if there were more bike paths and lanes.  There were also people pleading to the government to re-instate the bike budget, and many were asked to say a few words on how the cuts made them feel.  The words "forgotten", "rejected", "angry", "upset" (as well as other words that I won't mention here) were used quite a lot.  All were met with the sound of applause and bike bells.
The chants started up, and to the sounds of "Ted, Ted, Don't be slack. Bring the bike budget back" a long blue bike path was unrolled and layed down on the steps of parliament.
Over the course of an hour, the numbers had grown a little causing the road to be closed to cars.  As the rally ended, many riders left, either for work, home, or to a nearby coffee shop (we had earned it).
The rally was just the beginning of what will be an ongoing campaign to have the bike budget re-instated. We will continue our fight to make the state of Victoria a more cycling-friendly place.
For more information on this issue, please visit: www.bicyclenetwork.com.au.
Ride Safe.