Penang Hill
Penang Hill is the largest mountain on the island, and at 2,411 feet is nothing to sneeze at. There's a community at the top with restaurants and various touristy things, and a road that goes all the way up, but only those who live on the mountain are allowed to drive up. This is because the majority of the climb is a 20% grade, with sections as steep as 30%. Still, it's a favored place for many walkers and cyclists.
I've been to the very top only once, and I contest it was the stupidest thing I've ever done on a bike. Granted, I'm thinking of doing it again, if only for the ais kacang at the top. Most of the time we stop at 84, which is the halfway mark at 2.5 km.
Last Tuesday a few of us headed up to 84 again. It'd been awhile since I had climbed it last, and it didn't take long to be pushed to my limits. In order to get up I need to zig-zag my mountain bike, which is a bit difficult when your friend is zig-zagging in the opposite direction. Whoops. I felt a lot smoother on the bike this time, though, and only stopped a few times when I wanted to, not because I had to. I pushed the bike up the two steepest sections and was only a few minutes shy of my personal record.
The difference between previous rides up the mountain is I remembered to run the GoPro, so I took video going up and, as you'll see below, the descent. Even from the halfway mark, descending can be a bit tricky as you don't want to go too fast in case of motorbikes or cars. You also don't want to overheat your brakes. The entire time I modulate between front and rear brakes, and as you'll see I pull off at the switchbacks to let the brakes cool.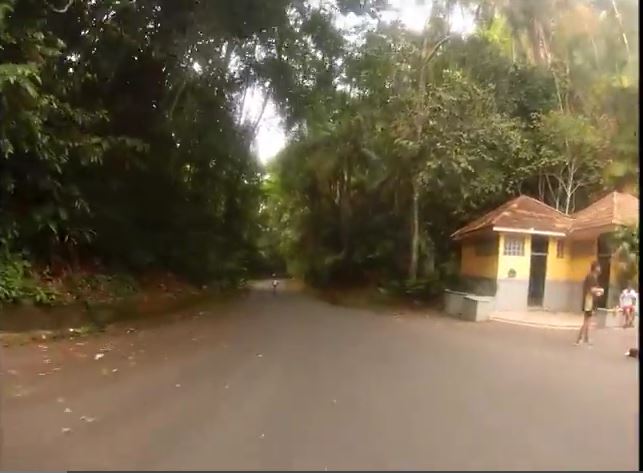 I'm thinking my next ride may be all the way to the top, but maybe not. What's the craziest climb you've done?
Also, I'm hosting #bikeschool this Friday (Thursday 9PM EST), so make sure you follow me on Twitter: @ashleyidesign