Please BE KIND to Cyclists
You just can't beat the phrase, "Please BE KIND to Cyclists" when it comes to conveying our feelings towards motorists.  It's a message that all of us cyclists would like to pass along to our machine powered friends….and our spouses, children, and friends feel the same way.

On a beautiful Austin morning in September 2002, Al Bastidas was pedalling along on his way to a local bike shop ride.  He never made it, due to a lack of attention and concentration from the driver of an oncoming vehicle.  The collision caused severe damage to his head, and after immediate brain surgery the doctors gave Al a 50% chance of survival.
Miraculously, after 2 days in a coma and 11 days in intensive care, Al looked to be coming around.  He spent another month in the hospital and over three years in rehab before getting himself on the mend.  Being on the bike was the factor that put him through this, but his cycling athleticism was also the thing that pulled him through.
In 2006, just as Al was getting his speaking, balance, and memory somewhere back to normal, another Austin cycling tragedy occurred.  In April 2006, Gay Simmonds-Posey was training for the MS150 ride when she collided with a hit-and-run driver.  Gay wasn't as fortunate as Al.
Al couldn't take it any longer…he had to stand up for the safety of cyclists.  The result was the creation of a non-profit organization "committed to raising awareness and increasing the harmony and tolerance between drivers and cyclists".  Please BE KIND to Cyclists has the mission:
To promote safe cycling for all and to contribute to a global social change by making stronger and healthier communities and providing resources to all: communities, drivers and cyclist; so they can educate themselves and learn to coexist and share the road safely and with respect.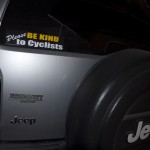 I first heard about Please BE KIND to Cyclists a couple years ago when shopping in one of the local Austin bike shops.  I learned the basics of the story and bought a pumper sticker to support the cause.  I drove with it proudly on my vehicle until recently selling it and driving something different.  I've been meaning to get another one and show my support, but in the meantime I crossed paths with the marketing company for Please BE KIND to Cyclists and am on board to do more than simply wear the sticker.
If you'd like to help support their cause as well, there are a bunch of ways to get involved:
Purchase a bumper sticker, shirt, or jersey.
Intern or Volunteer for their organization.
Ride:  In April 2011, Jack and Adam's Bicycle Shop is putting together the largest fundraiser yet for Please BE KIND to Cyclists.  The first annual Round Rock Express Ride at the Dell Diamond will take place with 100 percent of the profits benefiting the organization.
Bike Shops – If you own a bike business or just have a favorite local shop, get some of their bumper stickers and start selling them.  Spread the word……save a cyclist.