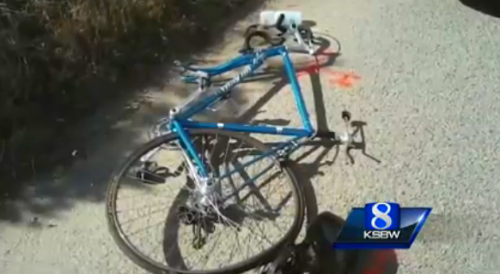 Update…upon posting this today, one of our readers wrote in and told me about one more to add to the list.  There were at least 3 cyclists killed in the United States in the past few days.
I'm just one guy.  One person who isn't passionate about too many things, but when I hear about a cyclist being killed….I must speak my mind.
I honestly do not follow the news, politics, sports, or anything else that makes up the typical water cooler conversation on a daily basis.  But being tapped into social media, and even more so with the cycling world…I can't avoid hearing about all that goes on.  In just the past few days I've learned about cyclists in two different cities that were killed on their bikes……again.  The scary thing is that I'm sure there were more that I just didn't hear about.
How can this be?  It burns me up beyond belief, and I can't help but to write about it.   But once again, I'm one guy….what good is my blowing up going to do?  I sit here on the verge of tears, and cannot honestly think of a realistic way to help solve this problem.  I pray that people would get cyclists on the brain when they are driving, and that people would just drop the damn cell phone.  I wish people could learn to slow down.  I fear that the policies and infrastructure being put in place just isn't enough.
Then we lose another one of our own.  This is dedicated to the 28 year old girl who was killed in Austin, and to the 40 year old Santa Cruz resident who lost their lives last week (update: also dedicated to 52-year-old male cyclist who died in Flint).  These people weren't cyclists….they were a daughter, a husband, a best friend, a lover.  Come on people, how many more do we want to lose?
Note: The driver who killed the girl in Austin was not necessarily at fault.  But I do know how fast people drive on the road where this happened, and can't help to think that slower traffic could have saved her.
Photo via Cyclelicious