Positive Junk Mail
If you're like me, you get way too much junk mail each and every day.  Well you could classify blog posts as junk mail I guess, but hopefully you get more out of it then garbage.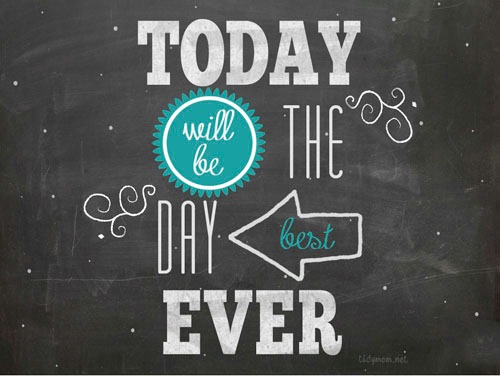 I'm trusting that every one of you is having the best day ever, but in case you're not, just think about a few of the following things:
1.  Today you are experiencing the best day of your life.  Why not think that way before it even starts to happen?  If you think it is the best day ever, it may just turn out that way.
2.  Sit there for a moment and give thanks for at least one thing you have experienced this week.  Doing this is not something that is limited to Thanksgiving Day…it should be a regular occurrence.
3.  Tell someone who has done something you appreciate today (or in the past) that you really would like to thank them for doing what they have done.  Be honest, be sincere, be unconditional.
4.  Enjoy yourself today.  No matter what is happening.  No matter what kind of stress you are experiencing.  No matter how excited or how bored you are today.  Enjoy it.  Don't question it.  Don't be stressed at it.  Just enjoy it for what it is.
5.  Do something immature today.  Yeah.  Something so freaking off the wall that even the thought of it embarrasses you.  Think of some of the crazy things you did as a kid…and then do something even crazier.
6.  Be honest today.  I mean really honest.  If someone is wearing something that you think looks ugly and they ask you what you think of it…tell them the truth.  Be nice about it, but be honest.  If you see someone you haven't seen in a while today and you say to them that we should go for coffee or something sometime…mean it.  Don't say it if you know you will never act on those words.  Do what you say you will do.
7.  Learn something.  Whether it comes from a book, a friend, or from watching two children playing in the park.  Learn from it.
8.  I could go on and on.  Basically, just enjoy your day.  Don't get caught up in the rat race today.  Go at your own speed.  Do something that makes you feel good.  Even spoil yourself a little if you are able to do so.  Be nice to everyone you meet today.  Smile.  Say thank you.  Say you're welcome.  Tell someone you love them.  Most of all…be goofy, happy, and have a lot of fun.
I hope you enjoy this beautiful sunny day.
Photo c/o tidymom.net.