Random Samplings: Interbike Edition
Every so often we seem to have a pile of cycling related products that need a little review posted about them, and it's that time once again.  I already had a few things to mention, but following Interbike there are now a few more.  So it's time for Random Samplings, once again.
Topeak Pumps
The guys over at Topeak sent me a couple different pumps to try out recently….a good pump is a great friend to a cyclist, right?  With all the choices out there, how do you really know what pump you need? Well, we'll be writing more on pumps soon but let me tell you about good and bad on these ones.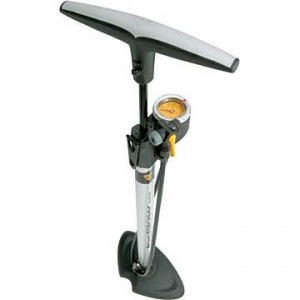 JoeBlow™ Sprint – The Sprint offers a cyclist everything necessary in a floor pump and will keep you inflated to the exact psi you like to ride on.
What Topeak Says: "The great performance of a JoeBlow series pump in a more affordable package. Includes the easy-to-use TwinHead™."
The Plus's: The Sprint is nice and light and is super easy to pump.  I also like that you can rotate the arrow found on the gauge so that it's pointing to the psi that you generally like your tires to be inflated to.
The Minus's: I personally like a pump that is short enough to fit in a suitcase so I can take it with me when I travel.  The Sprint is borderline short enough as I can fit it in only one of the suitcases we own.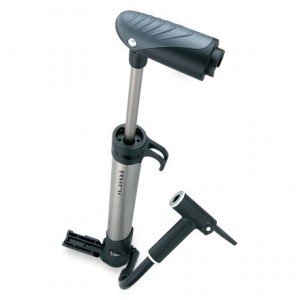 Mini Morph™ – The Morph series from Topeak gives riders a mini pump with an extra kick and options.
What Topeak Says: "The smallest Morph is still big on features. Fills both fat and skinny tires with ease, fold out foot pad for hassle-free inflation."
The Plus's: The Morph line from Topeak will provide you with great inflation power while out on the road.  If you're tired of using pumps that make it feel like your arm is about to fall off before you're able to inflate your tire…this is for you.
The Minus's: I asked the guys at Topeak to give me a pump that has the power to inflate well while out on the road.  The only real minus for this one is that it's too long to comfortably put in the back pouch of your jersey.
Footbalance Custom Insoles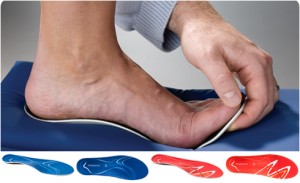 I first heard about Footbalance earlier in the year when I Crashed the Running Event and had them provide me with a custom insole for my cycling shoes.  Before I got these, I had always ridden with what I felt was a custom insole….but what Footbalance provides is customization on steroids.
When I heard they would be at this year's Interbike, I made a point of seeing them again so I could get insoles for my other pair of cycling shoes.
What Footbalance Says: "Our custom insoles improve feel and reduce 'slosh' without the need to undersize your cleats. You get the right stiffness to channel maximum power to the pedals. You can improve the performance of softer cycling shoes and make racing cleats more comfortable."
The Plus's: As with most things in sport…it all begins with your feet.  Keep them happy, and the rest of your body will benefit as well.  If you're not currently riding with a custom insole in your cycling shoes be sure and get some right now.
The Minus's: A good footbed should really massage your foot while you're wearing it, right?  Haha, well that's about the only thing these Footbalance insoles are missing.
Gravity Check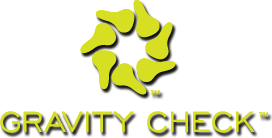 With so many exhibitors at Interbike, it's tough to single out any of them in particular.  I had passed by the Gravity Check booth a few times during the three days of the expo, but it wasn't until we were on our way out at the end of the last day that Gravity Check caught my attention.
This Tel Aviv company launched themselves at Interbike and reeled me and my Family in with their charm and personality.  Once that happened, I was able to take a better look and the marketing guy in me caught their logo and thought it was super cool.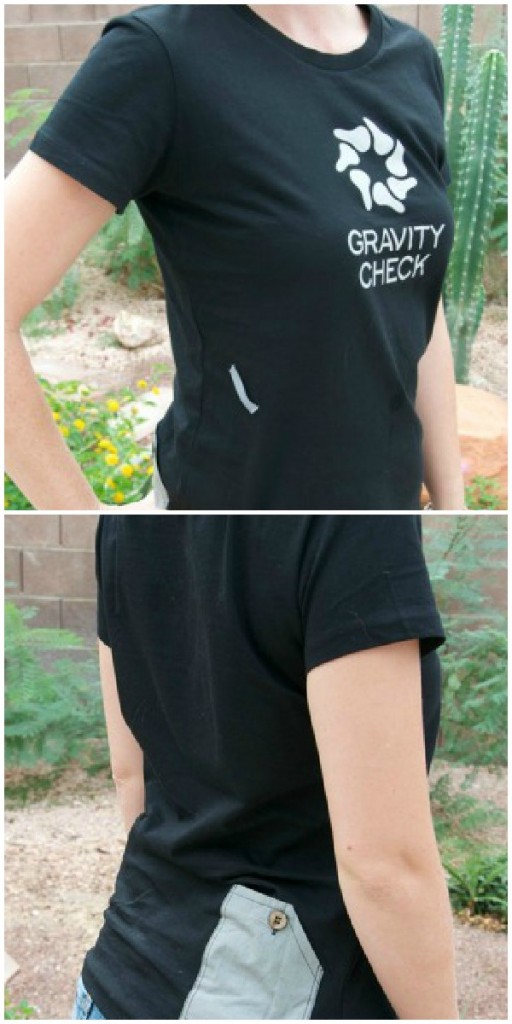 What Gravity Check Says: "Together, we are working to create a world-class apparel brand inspired by the thrill and joy of cycling culture and fully integrate it into the cycle of everyday life."
The Plus's: Gravity Check's clothing line comes from designers who ride bikes and know what we dig.  I feel they have successfully taken into consideration the style and functionality that cyclists (men and women) want in their casual clothing.  If their people are any indication of the vibe and culture of the company, Gravity Check has a great future ahead of them.
I also like how they integrated an ipod holder and earphone cord tabs into their t-shirts.  Yes, I'm totally cool with people riding with music as long as it's done safely and in the right conditions…and it looks like the guys from Gravity Check agree.
The Minus's: I love their logo, but feel some of the other graphics could be jazzed up a bit.  But they are brand new and I'm sure this will come along as they grow into the business.
Bollé  Cervin Sunglasses
As you already know, I'm rarely seen without having sunglasses on my face…so when the guys from Bollé said they wanted to meet up during Interbike I was all over it.  I don't know about you, but it feels like Bollé  has been around forever so I figure they must know what they're doing in the sunglass industry.

What Bollé  Says: "At Bollé we are constantly refining our trademark combination of fit, fashion, and comfort, resulting in some of the freshest and most technologically advanced eyewear in the industry."
The Plus's: Of course protection and performance are the most important aspects found in a pair of sunglasses, but we all want them to make us look like a Rockstar as well.  These Cervin's from Bollé  definitely have that sort of look to them.
The Minus's: Nothing against Bollé, but when I wore these out riding for the first time I got a headache part way through.  Now this has happened with other pairs of glasses, and when I tried a different model from the company who made them things were perfectly fine.  This just shows that look and fit are not the only thing to look for in a pair of sunglasses.  Some just work better for some people than others and you want to make sure you select a pair that integrates well with your face and eyes so that you don't end up getting a headache while on the bike.
Bollé will be sending me another pair soon, so watch for my review on those in the near future.
Darn Tough Socks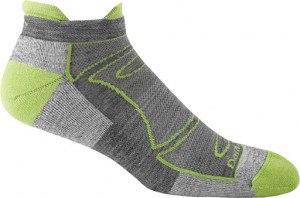 How important are good cycling socks to you?  I think most cyclists like a comfortable fitting pair that has a bit of an edge to them, so I met up with Tom from Darn Tough to see what they have to offer.
Darn Tough takes making socks very seriously and it was interesting to hear about the history of this company.  They put a whole lot of attention and detail into making what they feel is the perfect sock for cycling, hiking, and other outdoors sports.  And with their Unconditional Lifetime Guarantee they totally stand behind what they produce.
What Darn Tough Says: "Using the latest generation of Italian knitting machines, we're able to knit ultra-light yet extremely dense socks with an undetectable toe seem."
The Plus's: I've had a few pairs of cycling socks gather holes within a year or so of wearing them, so knowing these ones will last is very good news.
The Minus's: Just like with Gravity Check, I feel the socks from Darn Tough lack a bit of zing.  From what I saw, there was only one pair that had attitude and would get me excited about wearing them. This was a pair of women's socks, so if they send me a some and you see me wearing them….please don't start spreading the word that I'm wearing women's cycling clothing.
 I still have a few products yet to get to so I can provide my full and honest opinion of them…..watch for those coming in the weeks ahead.  If you're in the market for any of these sorts of products, I hope I provided enough information to help you out.  If not, be sure to hit me up and I'll help you out however I can.