Ride Across the Island of Jamaica
Would you like to cycle across the island of Jamaica this November?  I came across the Jamaica Reggae Ride and the idea of riding across this beautiful Caribbean island totally caught my attention, so I wanted to share it with our Loving the Bike readers as well.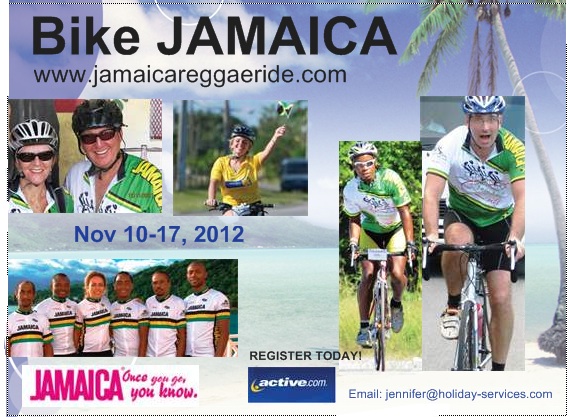 Who wouldn't want to go on an escorted ride across Jamaica passing through incredible landscapes, coconut and banana plantations, and all the beauty that this island has to offer?
There is a 3 and 6 day option spanning approximately 175 or 350 miles.  The terrain includes flats and climbing sections, but the organizers of this ride cater to all pace levels and rider experience.  Elite riders can challenge themselves by taking on some of the islands top cyclists along the journey.  Novice and Intermediate riders can ride at the pace they feel most comfortable with….and a full service support vehicle is there at all times.
Along the Way 
"Our stops are well planned so as to ensure everyone experiences the real Jamaica: we will have a rest stop at a farmer's market, have a visit with local school children and climb a cascading 600 foot waterfall! The Jamaican people are warm and genuinely friendly. You'll get to meet them up close and in their real world!    There is time in the afternoons to meet up with fellow cyclists, spouses and friends to explore the island's beaches, restaurants and attractions or to take in a massage or visit a spa."
Event Dates:
3 day rides: November 11,12,13 OR November 14,15,16
6 day ride: November 11,12,13, 14,15,16
Packages:
There are several options for travel and accommodations, but the 3 day tour starts at $699 and the 6 day at $1,199.  All options can be found on the Jamaica Reggae Ride website.  Organizers offer a full service travel plan and can take care of as many details for your trip as you like.
Get a group together and save – Contact [email protected] directly if you have a group of people you'd like to join in Jamaica.  They also have payment plans available so check with Jennifer on that as well.
Cycling in Jamaica
I'm hoping to work this ride into my schedule, so if you sign up let me know and that will motivate me even more to be a part of all the fun.  I wouldn't be promoting this if I didn't think it was a very cool opportunity, so I hope you're as interested as I am in it and will take part in the Jamaican Reggae Ride.
Register by September 30th and receive a free Reggae Ride Jersey….just tell them that Loving the Bike sent you.
For more information go to www.jamaicaraggaeride.com or check out their Facebook page.