Riding Barefoot from Denver to Kansas City
Not only is cycling across the United States, and doing so totally off the grid a huge accomplishment on it's own….but now my buddy Rob is kicking it up a notch by riding barefoot on the Denver to Kansas City leg of his tour.  Why, you may ask.  Well, it's all in the name of raising money for sustainability.  I'll let Rob himself explain things more, and let you know how you can donate.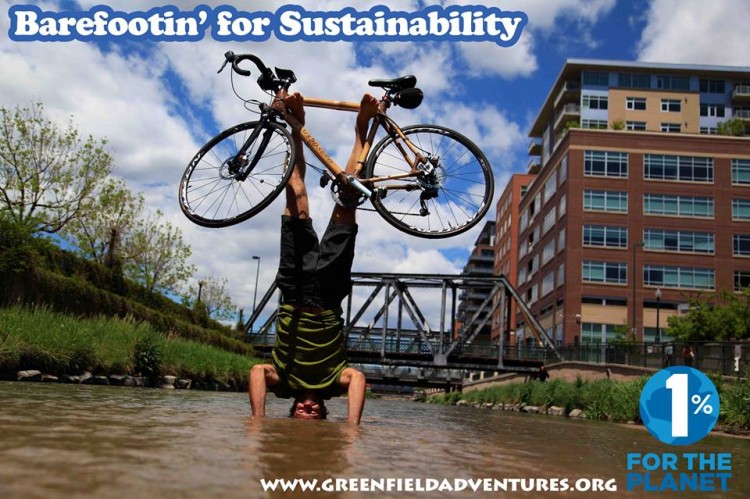 Barefootin' 4 Sustainability
by Rob Greenfield
I'm cycling barefoot on my bamboo bike from Denver to Kansas City.
Why?  To raise some dolla dolla bills ya'll.  For sustainability that is!  Let's join together to create a healthier happier planet!  I am raising money for 1% for the Planet grass-root organizations that will truly make the world a better place with your money.
What can you do? Pledge for each barefoot mile that I pedal between Denver and Kansas City.  This leg of the adventure, Off the Grid Across America, spans approximately 600 miles and the goal is to do the whole distance barefoot.
Put your pledge below or if you're a shy guy email it to [email protected].  When I arrive in Kansas City I'll post the number of barefoot miles I pedaled so you can make your donation.
Example pledges if I do the whole distance barefoot:
$.01 per mile = $6
$.05 per mile = $30
$.10 per mile = $60
$.25 per mile = $150
$.50 per mile = $300
$1.00 per mile = $600
$100 per mile = $60,000
Donations are tax deductible and will go to my the 501c3 non-profit sponsor, Guitars in the Classroom, and will be distributed amongst 9 non-profits all that focus on different areas of sustainability including alternative energy, bike advocacy, local organic food, clean water, reduce-reuse-recycle, and eco-sustainability through music.
Even if it's just .01 cents per mile go ahead and pledge and spread the word that we're creating a happier healthier planet by sharing this with your friends!  Together we can make a difference!
Or just donate now at: www.stayclassy.org/GreenfieldAdventures.