River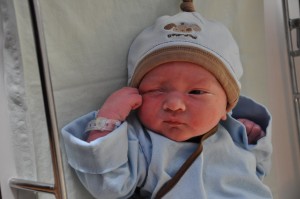 With a huge event like the birth of our third child happening this week, of course I just had to blog about it.  So here I am.  My son, River, was born at 7:23AM Wednesday morning….and just started his training for the 2030 Tour de France.  You gotta start 'em young these days.  Seriously though, it has been such a joy to welcome him to our family.  His name is River and he is Amazing, Beautiful, Peaceful, and resonating with Love.
This week, I was once again reminded just how incredible the human body actually is.  For something that I walk around with each and every day, I somehow forget just how intricate and perfect the body really is.  Watching him come out…his little toes and fingers, his healthy little body, the miracle of life….totally blew me away.  And it's not only the fact that we can recreate such perfection, it's also the amazement of how a mother's body adapts to be everything a baby needs.
After the birth….after all the tension and emotion of the event had slowly slipped away…I had to just sit for a moment and let all this wonderment settle back down for a second.  When I stood back up, the only thought in my mind was of how our bodies truly are walking miracles.
Then today, with images of perfection still sprinkled across my mind, I sat there on the seat of my bike demanding more from myself.  We were made to be great.  Built to live.  Born to do more.  So as my joints all moved in unison; and my muscles, veins, lungs, and everything else provided me with all I needed to ride; I rode with all I had.  Loving the Bike.  Loving my Family.  Loving Life.
To My Boy
You've been in there so long, we couldn't wait for you to come out.
Already grown so much….in more ways than just size.
Started your wonderful adventures.
Living as a Pirate in the Caribbean.
Traveling many miles across land and sea.
Changing the lives of those around you.
You are my Boy.
Already making me emotional.
Bringing happiness, panic, and wonderment.
Totally unsure of how any of this is going to be.
Hoping that you'll help show me the way.
Already loved more than you'll ever know.

Unknowingly, Unwillingly, Unsure…
…but nevertheless born a gypsy.
What else are you going to be?
What will your personality be like?
Will you like blondes or brunettes?
So many questions.  I'm only curious about the answers.
Some theorists say that you chose us as your Parents.
Selecting us because this path will teach your spirit what it needs to learn.
No matter why…we are happy that it is you we can call our Son.
Knowing you'll teach us as much as we hope to teach you.
Wishing you worldly knowledge, not only that found in a classroom.
Always wanting the best for you….always.
Holding you in my arms for the very first time.
Making your mom cry with emotion
from my first kiss.
I Love You So Much.
You'll always be my Boy.  You'll always have my Love.