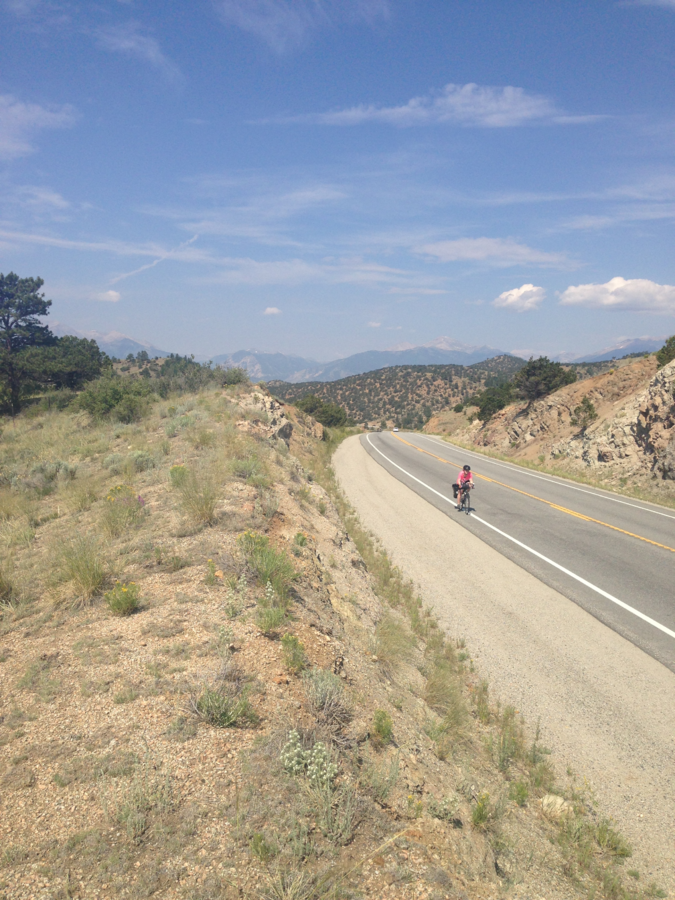 If you're an avid cyclist, then it's likely that at some stage or another you'll embark upon quite a lengthy journey where you'll naturally encounter some of life's many obstacles. Punctured tire, fatigue, dehydration, injury, getting lost; are all examples of how life can toss up a challenge for you to deal with when out on the road. As such, it's crucial that before setting off you fill a day sack with a number of essential biking accessories and nutrition to get you back out on the road in no time.
Before grabbing all of your essentials, you'll need a bike and a backpack, but you probably already knew that anyway…
Clothing
Naturally, you're unlikely to cycle without any clothes on, so this one is a little bit of an obvious one. However, it's imperative that whenever you're out on the road you always wear high-visibility or reflective cycle clothing to ensure that you're visible to motorists at all times. So when buying jerseys, bibs, shorts, or any other wear for that matter, make sure you're visible on the road and also ensure to select something that you'll feel comfortable wearing – as you'll be wearing it for quite a while!
Essential for: Visibility and comfort.
Protection
Protective clothing and gear could not be more important out on the road, as it can literally save your life should the worst happen. A helmet is possibly the most important form of protective gear that you need, so it's important that you select one that's comfortable and well ventilated, but durable too. Another good piece of protective clothing is gloves, as you'll literally feel the burn if you're not wearing any, which isn't exactly what you need if you still have quite a distance to ride…
Essential for: Injury prevention and protection
Equipment
In terms of other equipment, such as shoes or cleats and pedals, you should really be focusing on mobility and comfort. Shoes are great for bikes that have full pedals, but you'll need a pair of cleats for pedals that you need to clip onto. There are a variety of different pedals to choose from, but research which you feel you'd be more comfortable with before looking for shoes or cleats. You should also look for a pair of handlebar grips that offer additional comfort and grip because even after the longest of rides your hands can take a beating.
Essential for: Comfortability and handling.
Tires & Inner tubes
Inevitably, at some stage or another you're going to get a puncture, and there is nothing more frustrating than having to change a tire or inner tube at the road side. As such, you can prevent such inconvenience by simply preparing well. So, what do you need? Well firstly, you'll need a puncture repair kit with tire levers, then you'll need a fresh inner tube (as repairing your old one will take too long), and you'll need a pump to inflate the tire too. Don't take any risks when it comes to punctures and make sure that you carry several around with you because you never know when you'll get one. It's also a good idea to invest in a lightweight CO2 pump too so that once you have your new inner tube fitted, you can rapidly inflate your tire and be on your way. You should also ensure that you have a surplus amount of CO2 canisters as well.
Essential for: Rapid repair of punctures and other tire related problems.
Nutrition & Hydration
Drinks and nutrition are absolute necessities when enduring a long distance bike ride, with water being the obvious main example. Always ensure that you have a full water bottle and remember to refill it when you can because you're likely to really need it. Other essential items include energy drinks (but NOT caffeine-based ones) and high energy gels or bars that you can consume while on the saddle.
Essential for: Maintaining energy levels and remaining hydrated.
Technology
All too often is the case that you'll find yourself thinking "Where the hell am I?", well with a bit of on-board technology you'll never have to find yourself in that situation again. There are literally dozens of options available from GPS trackers and mobile phone holders, to bike computers that can measure anything from inclines to distance and speed. Whatever you decide to use, it's a perfect method of tracking and recording your performance so you can ensure to improve on your timing every time you ride.
Essential for: Not getting lost! And tracking performance.
Others
Other essential inclusions to your kit should include items such as a First Aid kit, a multi-tool or set of allen keys for on-the-go emergencies, and a spare chain link for when you need to repair or replace a link. Another good product to carry is some form of lubricant and degreaser, so that even in the toughest of conditions you can ensure that your bike still travels gracefully. Though there is a wealth of other potential inclusions (lock, lights, glasses, bike stand, bike cover etc.) when it comes down to the essentials, these items should be sufficient enough to handle any problems you have out on the road.
Essential for: Injuries, quick fixes, chain problems, etc.; the list is endless…
Although there are literally hundreds of products to choose from when it comes to road biking essentials for long distance bikers, what you choose to take in your day sack should be only what you need. Remember to limit what you carry to only what you need, as carrying excess weight is likely to take it's toll later down the line and fatigue will set in more quickly. However, do make sure that all your essentials are in abundance so that you don't find yourself cut short when you're halfway through the route.
Image c/o www.commons.wikimedia.org