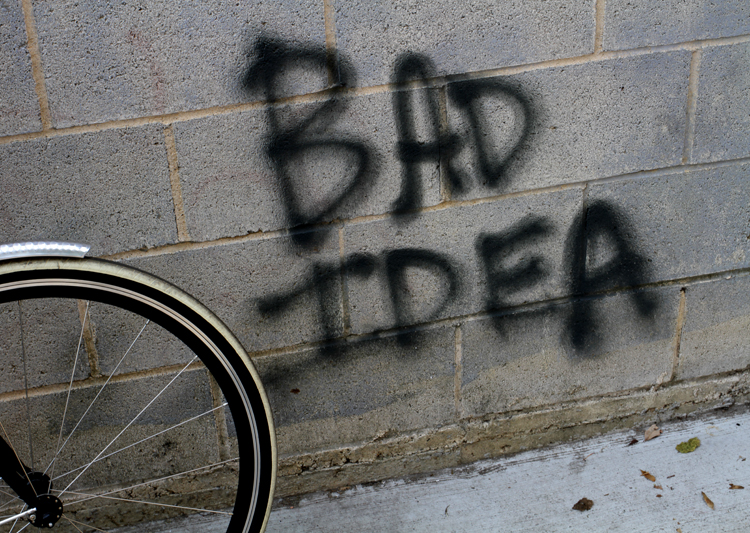 Early Saturday morning I had an encounter with an SUV on a stretch of Elston Avenue.  Although Elston has long sections of protected bike lanes, this portion doesn't have them.  However, it's a fairly wide street and at that time of the morning, has very little traffic.
You develop a sixth sense riding in the city.  You can often feel the energy of a person or vehicle behind you before you actually see them.  This was one of those occasions.
As I looked over my left shoulder, I saw an SUV floor it to pass between another car and myself.  It's not exactly one of my favorite things to be passed by a 5,000-pound vehicle at top speed.
The three of us met up at the next red light: the car he passed was in the left-turn lane, he was in the center, and me on the right.  The irony of this was not lost on me or the driver of the other car.
She rolled down her window, and calmly pointed out to him that he did get any further than she had, and questioned why he had done what he did. He was angry, gesturing wildly, and berating her for driving too slow.  To which she replied, while pointing directly at me, "I watch out for bikers and other cars on the road."
At that point, Mr. SUV ran the red light.
She and I looked at each other, sharing a moment of disbelief.  The light turned green.  She turned left; I proceeded straight ahead.
As I continued along on my ride, I couldn't help but wonder what makes someone so angry.  There was no traffic, no roadwork, no other obstacles – well, unless you count a car going the speed limit and a cyclist.  I'm so grateful that I don't have anyone in my life that projects such toxic energy.
I remained silent while we were stopped at the light.  I learned long ago that engaging in dialog with a person who is that angry only makes it worse.  It is impossible to get someone who is behaving irrationally to listen to your point of view – and certainly not in the span of a red light.  More importantly, I didn't want him to encounter another cyclist three blocks up while angry at me.
I wish that I could produce a PSA about road rage.  It would be a short message:
"Having a rough day?  Think twice before you get in your vehicle and use it as a weapon.
It's just a bad idea."
– Suzanne