Rob Greenfield's Off the Grid Across America Tour: Day 56
The more I get to know Rob Greenfield, the cooler I think he is.  He continues his Off the Grid Across American bicycle tour….where he's showing the world how to be more self-sustaining. Here's his Day 56 journal entry.
Off the Grid Update: Day 56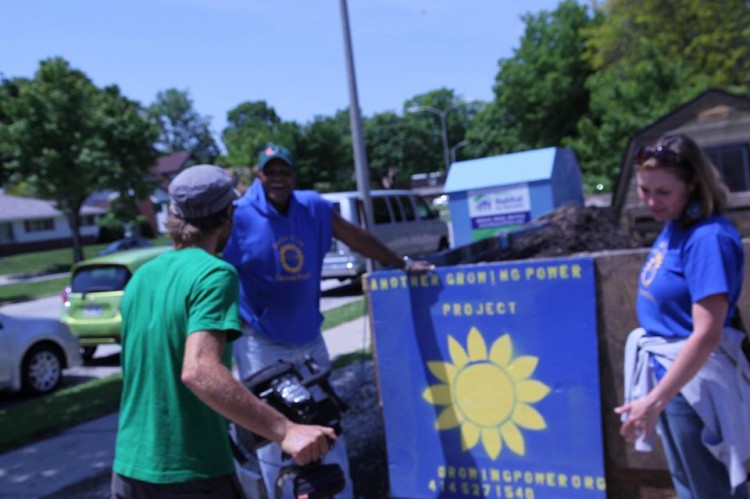 Today I finally visited Growing Power (www.GrowingPower.org) which is something I've been wanting to do for years now since I first saw them featured on the documentary Fresh (www.freshthemovie.com). They are a 1% for the Planet recipient and through my Off the Grid adventure across America I am raising funds for them to keep on doing the amazing things they are doing. They have grown into a huge movement over the last few years so the amount I raise for them will be a tiny fraction of what they receive each year but I know they will put whatever I give to them to good use.
My visit to their 3-acre organic urban garden was more productive, educational, and inspirational than I had ever imagined it would be. Every corner I turned there was something interesting and exciting to see. The interns, volunteers, and staff were all stoked to learn about my bamboo bike and solar panel covered trailer as well and the combination of what they had going on as well as mine made for an afternoon full of laughter and joy.
The vision of Growing Power is to inspire communities to build sustainable food systems that are equitable and ecologically sound and create a just world, one food-secure community at a time. They thoroughly impressed me and I truly believe this organization knows how to change the world for the better. They are already doing it and if we just replicated their system around America we could be on our way to a healthier happier nation tomorrow.
Tami Hughes, the communications and public relations manager, gave me a tour of most of the entire farm although there was so much happening on the 3 acres that I doubt I got to see it all. Tami is a gem and I was also honored to spend some time with Will Allen who is a man creating a better world near and far. Nothing but smiles and good words came from his mouth in the time I got to spend with him. Here is a wikipedia article to sum up some of his many achievements: http://en.wikipedia.org/wiki/Will_Allen_(urban_farmer).
Here are some of the spectacular things they are doing at Growing Power:
Growing good food in large quantities. They feed over 10,000 people per year with the food they produce and they grow over 1,000,000 pounds of vegetables per year. A large percentage of their veggies are grown via aquaponics and in doing so they also raise over 35,000 tilapia and yellow perch per year. Aquaponics is a sustainable food production system that combines raising fish in tanks with growing plants in water in a symbiotic environment. The nutrients are cycled between the fish and plants and soil does not have to be used. It is a very productive system of farming and can produce top quality food in large quantities year round even in cold environments.
Keeping food from the landfill. Growing Power composts 43,000,000 pounds of waste per year and 21,000,000 of that is food that is diverted from landfills by picking it up from stores, distributors, restaurants, school cafeterias, etc. Instead of all this becoming waste and going to the landfill they turn it into valuable fertilizer that is then used to create more food. They also feed some to the goats and probably the chickens which creates fertilizer as well.
Will has a vision of a world where everybody has access to good food and he has dedicated his life to making this happen. He and Growing Power transforms communities by providing healthy and affordable food to lower income communities. In doing so they teach people what real food is and what they need to put in their bodies to have a healthy body. I've been learning that some parents feed their children nothing but chips and sugary drinks for lunch and that many people know close to nothing about food. Growing Power is doing their part and more to change that. They grow food, grow minds, and grow the community.
They offer The Farm-to-City Market Basket Program which is a is a cross between a mobile grocery store and a community supported agriculture (CSA) program. It's not all local food because they don't grow things like bananas and oranges around here but it is all healthy. This is an excellent measure they are taking to provide good healthy food at a good price in a convenient way. If there is one thing I know it's that Americans love convenience. So if we are going to get people eating healthy it can't be complicated or too challenging.
They also offer all sorts of workshops, outreach projects, and youth education programs. After all education is often the key to creating a more conscious person.
This is a non-profit that has multiple streams of pulling in income in order to raise the funds they need to keep on creating a better world. I respect this greatly as many non-profits don't understand how to generate revenue. They seem to be doing a very good job of this though.
I'll quote Will here. "If people can grow safe, healthy, affordable food, if they have access to land and clean water, this is transformative on every level in a community. I believe we cannot have healthy communities without a healthy food system." So they don't just grow healthy food at growing power, they teach people in the community how to do it and give them the resources they need as well. If you'd like to learn more visit their website (www.GrowingPower.org), "like" their Facebook page, and read Will's book, The Good Food Revolution.
Growing Power was a 10-mile ride from Mitch's house through urban Milwaukee. I enjoyed the ride up there and since I was in a rush did the 10 miles in around 45 minutes. On the way back I took my time and relaxed at a park overlooking lake Michigan where I prepared a sandwich of greens and tomatoes from Growing Power, venison from Todd in Madison, and whole wheat bread from a dumpster. It was a beautiful day to be out and about and even though it was my day off I was happy to be doing some riding. I pedaled along the lake south and then rested at Bradford Beach for a few hours until evening and then stopped at Whole Foods and picked up some local organic milk and ice cream, which served as my dinner. That night we had a gathering at the house and about fifteen friends came over to see me. Many of them I had not seen in years and it was a fabulous evening of spending time amongst friends.