Rockstar Cycling Style: T-Shirts Are Back
Our Loving the Bike T-Shirts and Baby Outfits are back….it's time to get your Rockstar Cycling Style on.
What's even more Rockstar is that we're doing a Buy One Get One at 50% off from now until November 25th, 2012 (Order one and you'll receive a message asking if you'd like a second one for 50% off).  Oh, and the prices on the site include FREE SHIPPING WORLDWIDE.  Yes, you heard me correctly.  Anywhere on the planet.

When we first started this site, we sold our original "Enjoy Your Ride" shirts through a small company in Canada.  We used them because they were an awesome little company with one amazing story.  (Remind me to tell you about how this Columbian refugee has gone on to do such incredible things, sometime).
Then our site grew and a bigger company approached us about being the distributor of our t-shirts.  We were able to sell the shirts at a lower price, but it turned out to be a not so good relationship and we ended things with them a few months ago.
My thoughts turned back to the original t-shirt producer and coincidentally enough the owner, Henry, was in the process of starting something new.  He just launched Octeepus and has a full line of Loving the Bike shirts with new styles and designs.  He's also brought back our very popular Baby Outfit….if you have or know of a cycling baby, you'll definitely want to pick up one of these.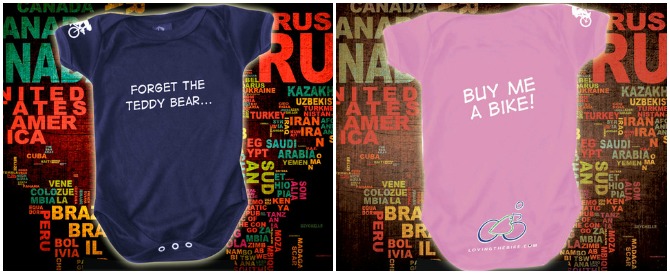 We have Men's and Women's t-shirts, plus the baby onesies.  Just like before, all proceeds go to Henry and Octeepus and we're excited to help build up his new company.