Shannon and I Reminisce Cycling in SKB
It might be a tiny little island, but the Caribbean island of St. Kitts is home to some of the West Indies best cycling. Actually, it's sister island Nevis is pretty dang good for cycling as well.  The area of the twin-islands is 261 square kilometers (101 square miles), with St. Kitts occupying 168 square kilometers (65 square miles) and Nevis 93 square kilometers (36 square miles).  Yeah, it's that small.  To put it in perspective, imagine it as being approximately 1.5 times the size of Washington, D.C.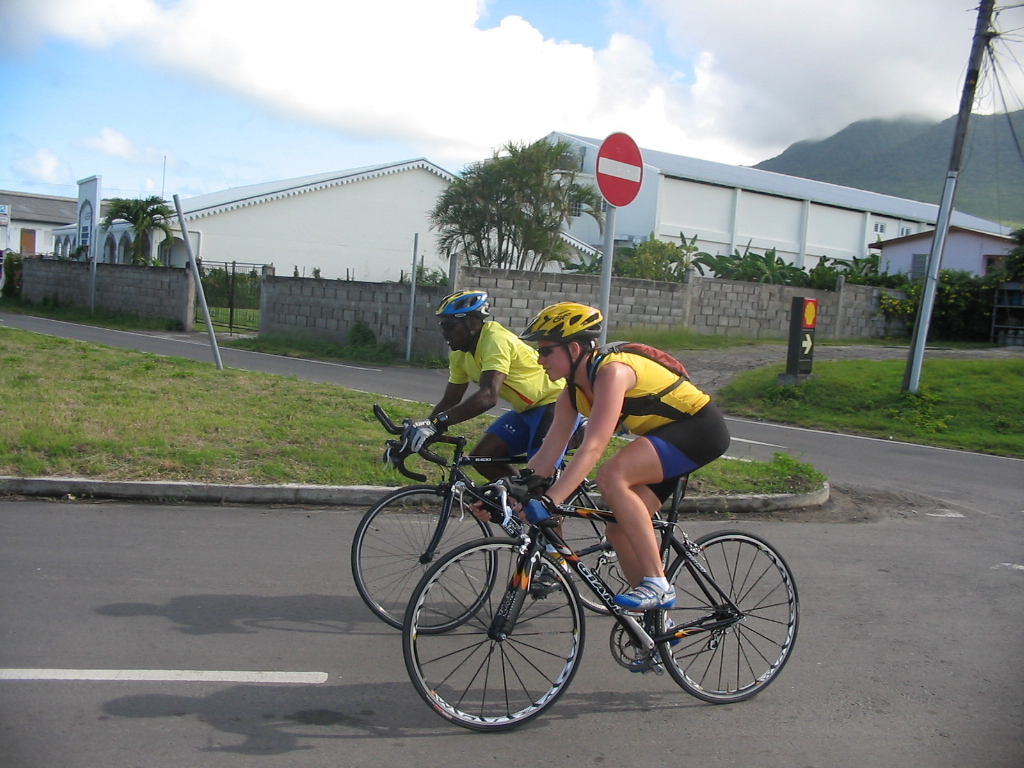 One of the good cycling friends I had while living there was Shannon who was on the island attending Ross University School of Vet Med.  She spent three years on the island and totally ripped up the pavement while she was there.  Not a pro….but definitely one of the strongest female riders I've ever seen.  Below is a question/answer session I recently had with Shannon:
Loving the Bike: When you found out that you'd be going to St. Kitts for Vet school, did you know it would be a good place for cycling?
Shannon: No,  in fact I heard from people that it was not a good place to cycle due to the narrow roads.
Loving the Bike:  How did you find that out?
Shannon: Soon after arriving  I bought a used mountain bike to commute to school and the grocery store.  I soon found friends that encouraged me to ride around the island.  From then on I was hooked.  After a year of racing triathlons and cycling races on my mountain bike I was able to get a good deal on a road bike.  That is when the real fun began!
Loving the Bike: What was your level of cycling like prior to going to St. Kitts?
Shannon: I had done a cross country norther USA bike tour with a few friends.  I also had jumped into a few collegiate road races when I was injured  and could not run while at Cornell.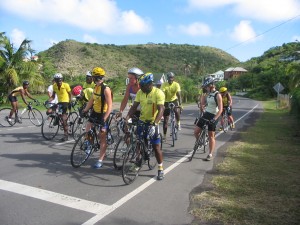 Loving the Bike: What was your level of cycling like by the time you left St Kitts?
Shannon: By the time I left I was not only doing triathlons but had also done many road races of varying distances up to 75 miles.  I had traveled to other islands for international races.
Loving the Bike: What were the best things about riding in St. Kitts/Nevis?
Shannon: The great weather, and beautiful country.  Doing a "loop" of the country was such an amazing ride (33 Miles), sometiimes I would even do it two or three times 🙂
Loving the Bike: What were the worst?
Shannon: The crazy buses that passed you going super fast on a curve and there was no shoulder.
Loving the Bike: Tell me about the competitions you took part in while in St. Kitts?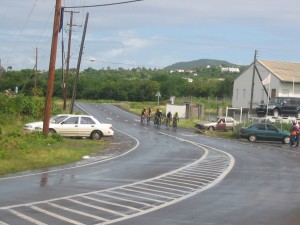 Shannon: There was a race (triathlon or local biking race) almost every weekend.  These were a lot of fun, great people and beautiful courses.  Nevis, especially put on a large number of cycling races that were open to people of all levels.  I would highly recommend participating in these to anyone.
In addition I  participated in longer races on other islands. For example,  a 75 mile road race both on Anguilla and on Tortola.  Anguilla was amazing  but I was disapointed as they changed the prize money for men versus women and were very macho on there thoughts despite my placing.  Tortola, also an amazing place. However,  I was hit by a car during my race there so  my experience became  less then desirable.
Loving the Bike: Don't I remember you also getting hit by a goat once?
Shannon: Hahahaha.  Yes I did get hit by a goat during a triathlon on Nevis.   In the rain, coming  down a hill around a corner there was a whole herd of free range goats in the road,  try as I might my reaction time was not good enough.  I flipped over my handle bars.  The goat was fine and ran off.  I had cracked my helmet and my brakes were rubbing but i did get up and finish the race and still managed second place.
Loving the Bike: What tips or advice would you give to someone who's planning to go cycling in St. Kitts?
Shannon: Make sure you ride both the island loop and the peninsula, they are both so beautiful!  Be careful with the free range animals in the road.
Loving the Bike: What are you currently doing with cycling?
Shannon: I am training for duathlon world chanmpionship in Spain and I have been recruited by an all women's cycling team in TN.  Using the nutritional cleanse system has allowed me to heal from my injuries and come back even stronger then before.
Shannon has a lot of expertise on cycling, St. Kitts, and Living a Healthy Lifestyle…if you'd like to contact her with any questions she can be reached at [email protected] or at her website, http://www.DrShannonDawkins.isagenix.com.