Measure for Success – Mac Mondays #2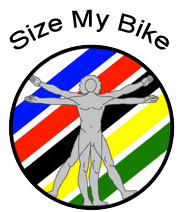 SizeMyBike is a simple iPhone app to help new and existing riders properly fit a bike.  Users input six body measurements (height, inseam, sternum, arm length, foot length, and shoulder width) and SizeMyBike will compute the optimal geometry of a road bike or a mountain bike. The maker of the app says that the results will help riders increase performance, improve comfort and prevent pains and injuries.  Additionally, users will be able to compute the right frame size, stem length, and crank length, as well as optimize saddle height, saddle setback and stem length.
Obtaining the six body measurements is a two person job as I found it difficult to get accurate readings by myself.  The "About" page, in the app, gives useful hints and diagrams to help achieve proper measurements.  All measurements must  be entered in millimeters (which could be a problem for riders that use Imperial units as their standard form of measurement).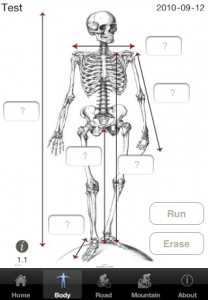 After all measurements are entered, press the "Run" button and results are calculated for the rider's optimal road and mountain bike (results are displayed in millimeters).  The results (in image form) can be emailed for the rider's records or sent to a bike shop to help set up a bike.  The "About" page also includes tips about analyzing the results and how to apply them to the bike.  Finally, the "Home" page includes a link to the SizeMyBike website, where more detailed information is provided to help apply the results.
Entering the measurements is easy and straight forward; but, the results displayed are difficult to interpret as the app doesn't clearly state what frame size a rider should buy.  If you already have the proper size frame for you, the results displayed will help you tweak your bike to make your ride more comfortable and help improve performance.  One feature that is missing is the ability to save your results inside the application.  This would be useful if you were helping other riders fit their bikes and would like to refer to the data at future points in time.  If you follow SizeMyBike on twitter, I've noticed that the developers occasionally give general technical advice to further improve your bike fit.
At $4.99 in the iTunes App Store, SizeMyBike is overpriced for the features offered but as they say on their website: "professional bike fitting service costs about $150."