Solo Cycle Jersey Review and Giveaway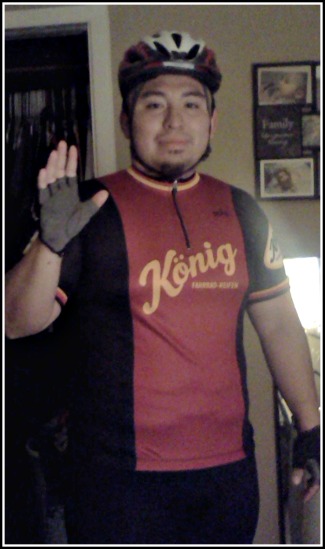 Solo is an online cycle clothing company with a passion for two wheels and the styles of another era.  So when this pre-1970 pro racing inspired cycling clothing company contacted us about doing a review and giveaway, we thought we'd get involved and check them out a little closer.
It feels like I've already done far too many jersey reviews and I know a few more are coming in the future so I decided to have someone else supply their comments on this one….and who better than one of our readers?  I put the word out here in Austin and Jose De La Rosa jumped on the opportunity to try out one of the Solo jerseys and tell us what he thought.
Solo Konig Jersey Review
by Jose De La Rosa
"I was given a Solo jersey by Darryl from Loving the Bike and I wear it proudly.  It is colorful and bright but not too loud or flashy.  It's colorful enough that I feel noticeable riding down Parmer lane, and I find it very breathable and dry.  This jersey was definitely designed with performance and style in mind.  I have gotten a couple of compliments on it which definitely boosts the confidence and makes me ride stronger.  I really want to thank you for your kindness, this gift helped make my birthday week really great."
Each Solo Classique jersey is an interpretation of the styles worn by the great riders of the 50's – 70's.  These jerseys are tailored from Nuovotech polyester with superb moisture-wicking qualities.  This means we can use colours, patterns and styles that are not possible with wool.  It's the best of both worlds – retro style using modern fabric.  Look closer and you'll notice the meticulous attention to detail throughout each garment.
For more information or to order your own Solo Jersey, Kit, or Clothing visit them at www.solocycleclothing.com.
Win a Solo Jersey
Congratulations to Eric Hutchins who was picked by random.org as the winner in our Solo jersey giveaway.  Congratulations, Eric and thanks to everyone who shared their opinion and entered to win.
We're offering our readers the chance to win a Solo Cycle jersey.  To enter, leave a comment below as to what you think of the classic jerseys from the 50's and 60's versus the modern race jerseys of today.  Which do you like better, what do you like best about them?
Get your entry in by this Friday at Noon EST and we'll announce the winner soon after.