Strava Attack
Nothing can motivate a cyclist like a little friendly competition, and Strava definitely provides the framework to create challenges.  Although I've had a Strava account since they first started up, I wouldn't consider myself a Stravaholic like several cyclists around the world.  But the other night I fell asleep thinking about a few of the segments around here, so you know exactly what was on my mind when I took off for my morning ride the next day.
I think Strava is super cool, but I honestly only upload my activity about every month, or whenever I remember.  I'm lucky enough to own KOM status on several segments here in Grenada, and still hold "King" status on a few in Austin.  My Strava Attack started when I was auto e-mailed twice last week from Strava.  Once to say I lost my KOM on a segment in Austin, and the other saying I had lost one here in Grenada.  Well I can't do much about the Austin segment at the moment, but I was motivated to reclaim the other one.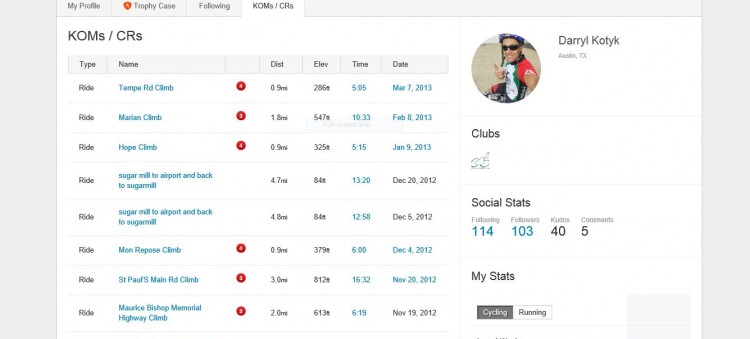 On my daily rides, I don't pay attention to where the segments start and end…..so any of the KOM's I've claimed have been part of a regular ride.  But, this time I was set on altering my ride so that I could do a couple segments that I don't generally make part of my route.  The Strave Attack was on, and I was sure I could take back my lost KOM along the way.
The overall ride was totally one of my fastest here in Grenada, but after getting home and uploading the ride….the best I had done was slightly improve one of my other standings.  No new KOM's.  Not even a PB.
You won this time, Strava.  But I'll be back.  Yeah, you could say that I'm slowly becoming a Stravaholic…..how about you?
If you're on Strava and want to friend me up, here's a link to my Strava Page.
Get Motivated.  Strava-Attack.  #MakeitHappen