Sweating for a Good Cause
We all know that cyclists are the nicest and coolest people around, right?  Well our friends over at Bike2Power do a great job at extending their support to several rides throughout the year.  Mercy Pilkington is here to talk more about taking part in a charity ride and how Bike2Power gets involved.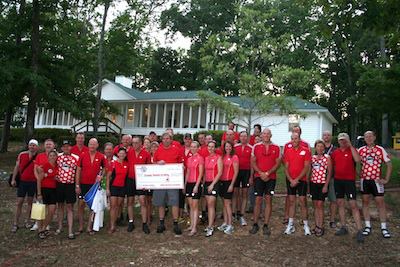 Sweating for a Good Cause
by Mercy Pilkington
Athletes are some of the most give-back minded people I've ever met, even if they don't set out in their training with that intention.  From the pro athletes who reach out to kids in their communities, to the weekend warriors who sweat it out in a local charity ride, it's almost as though we know that the strength in our bodies can be fleeting and we intend to take every opportunity to use our powers for good.  At events that get national attention and a global following like the MS rides or the Relay for Life endurance events, or at races like the local 5K that benefits a fallen police officer's family, athletes of every level and ability are some of the most courageous champions for the causes of others.
Unfortunately, not all charity events are created equal.  One of the side effects of this willingness to help others through sport is that it's easy to get suckered into participating with the belief that it will be staffed by incredible volunteers since it's for a good cause, and that you really will be doing something to make a difference.
Years ago, I rode in the Ride of Love, a 152-mile one-day event to benefit Camp Smile-A-Mile, a summer camp for kids with cancer and their families.  It was grueling, but it was one of the most well-staffed, well-organized events I've participated in.  The first year I rode, I did it with a broken collarbone from a crash only two weeks before, and it was still an awesome ride.  There was plenty of food and water, there was police support throughout the entire point-A-to-point-B trip, and there were tons of volunteers at every stop along the way.
More importantly, our entry fee was the price of one scholarship to the camp, although we were encouraged to raise more.  Every penny was accounted for on the ride website, with how many riders were in the event and how much money they had raised.  At the end of the ride, the check for the full amount was presented to the camp.  There were no "administrative fees" or "expenses," since everything—even the jerseys we wore on the ride—was donated by sponsors. The full amount the riders donated went to the camp, but more importantly, there was full transparency of where the money went.
Sadly, I can't say the same for every event I've participated in over the years.  I've been on some charity rides where each rest stop was nothing more than a card table on the side of the road with an open package of cookies plopped on top of it, cookies that were now crawling with ants.  On that same ride, I returned to the start point only to discover that all of the volunteers had closed up and gone home once the ride got underway, thinking they wouldn't be needed.  Even worse, our entry fees went to cover the ant-cookies and five-color screen printed T-shirts, meaning there was still a jar on the registration table for us to donate money above the cost of our entry fees and that tip jar is what the soldier's family received from our efforts.
But don't let concerns about support or financial honesty scare you off from doing what you love and doing it for the benefit of others.  Become aware of the event and its organization ahead of time.  Find out through the event directors and through past participants what's involved in both the staging of the event and the use of the funds afterward.  Then get out there and ride for someone in need.
If you're interested in finding a ride that benefits a worthy cause, or if you know of a great charity ride that could use some support, check out the Bike2Power.com initiatives aimed at supporting these events.  Every month, a ride is selected as the Cause of the Month, and a group is Sponsored by the company.  Links to both of those initiatives can be found at Bike2Power.com, or follow Bike2Power on Twitter for links to sign your ride or club up and to get more information on great rides for great causes.