Talking Bikes Has Never Been This Social: #bikeschool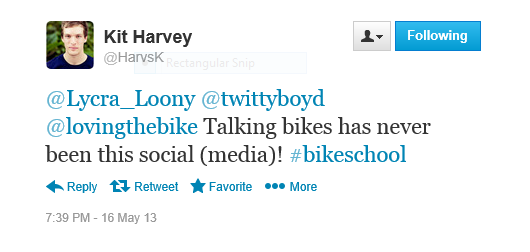 It's been a while, but I was happy to be hosting #bikeschool once again last Thursday night on Twitter.  Now that the weekly cycling chat pretty much runs itself (mostly due to our #bikeschool guardian angel, @twittyboyd), I don't get all that involved with it or even attend every week.  But when I do drop in and put on the Professor hat, I get to feel that incredible rush that only #bikeschool can bring.
During last week's chat, I was able to sway over one of my twitter followers who had never heard of #bikeschool before.  Kit Harvey and I worked together when I acted as cycling editor for The Roar last year.  He was my favorite writer, and was always there when I needed him.
Upon his quick introduction to #bikeschool, he tweeted what I have posted above.  In a way that only a great writer can do, he captured the essence of what our chat is all about.  #bikeschool is a place where #WorldCyclistsUnite and can interact and be social with like-minded people.
I am very, very proud to be one of the people who brought #bikeschool to life….and even more proud of where our bicycle community has taken it.