Team #LovingtheBike and #30daysofbiking 2014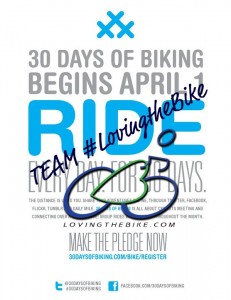 A few weeks ago, we asked you if Team #LovingtheBike Would Do #30daysofbiking again this year.  I explained how my new cycling projects have taken a lot of time away from me, but would still love it if we once again put our own spin on the #30daysofbiking challenge.
Well, the response was pretty dismal so I didn't organize anything.  But I saw that @twittyboyd and @Lycra_Loony were discussing this on Facebook, so I thought I better put up a post.
We won't officially be doing our own challenge this year, but everyone is welcome to post their daily riding photos on the Loving the Bike Facebook Page.  You can also tag @lovingthebike and use #LovingtheBike in any related tweets you send out as well.
You know me, I'm sure we'll find a prize for anyone who shows us they are worthy by rocking things hardcore during #30daysofbiking 2014.
It all starts tomorrow.  Here's to 30 days of riding bikes, good times, and community.
If you haven't pledged to ride every freaking day in April, do it here.