Team #LovingtheBike for #30daysofbiking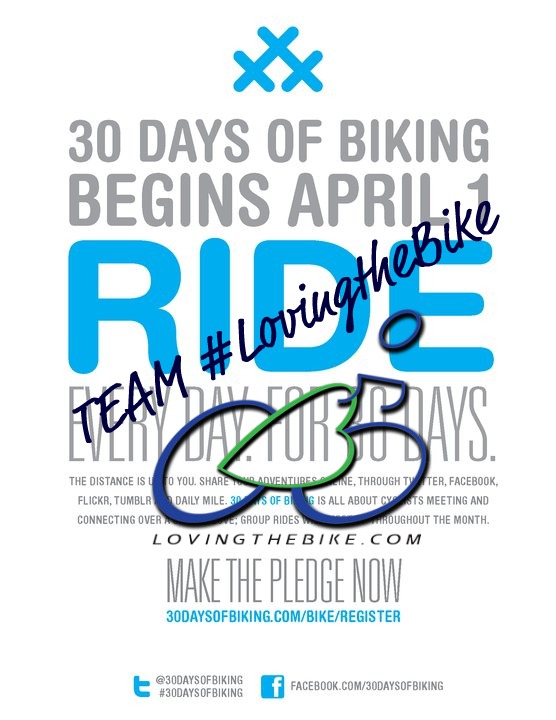 If the whole #30daysofbiking thing wasn't exciting and challenging enough, we've now got Team #LovingtheBike created to make it even more fantastic. That dude, Sean Mellor from Bicycle Radio just had to stir things and come up with the idea of "Teams" for this years challenge staring on April 1.
We've had a bunch of people join our team, but I don't think anyone other than Sean and I know exactly what we're all in for…..so I'm here to lay out the "30 Day Rulz and Regs" for you.  There are basically three competitions in one:
Biking for 30 days straight is one awesome challenge
The #LovingtheBike team member who gets the most points will win a prize pack consisting of a Loving the Bike T-shirt, Ryder sunglasses, GU Gel, and some other cool stuff
I don't know what's on the line yet, but there's going to be a gentleman's bet between us and Team Bicycle Radio so Team #LovingtheBike is going to have to represent.
The Rules:
It's very important to make sure throughout this that the "30-days of biking" message is the main focus of all communications.  Loving the Bike has chosen to implement the "30-days of biking" challenge to motivate, excite, and challenge its readers. The following is how we've chosen to track participation and encourage interaction amongst our group.  We encourage other groups, org's, clubs, shops, manufactures to take the challenge themselves and see how they do. The ONLY winners here are`those who accept the challenge and give it their best! Fun between groups is welcomed and even encouraged. Our scoring system can be use as a standard to compare results. All that matters is having fun and challenging yourself.
All participants must register at 30daysofbiking.com to participate.
Point system:
2 points: Ride your bike on a given day.  You're in the Saddle, you're pedaling.
1 point: Trip Reduction…..Meaning you went somewhere on the bike that you would normally do by car. i.e. Rode to work, the store, etc.
1 point: Post Picture of your ride to the wall of www.facebook.com/lovingthebike.
1 point: Most "LIKE"s of picture per day.  Only one picture post per person, per day.
Maximum Points for the month: 150
At the end of April, Team points will be based on a Cumulative Average (Total Team Points divided by the number of members of that team)
Our #LovingtheBike Team Captains are Darryl (@lovingthebike) and Ian (@PedalmanTO).  Please report how many points you accumulated to one of these guys by the end of each of the 30 days.  The Team Captains will determine which team member gets the "Like" point each day and will record totals and supply @30daysofbiking headquarters with the daily totals.
If you've already signed up for
#30daysofbiking
and would like to be on Team
#LovingtheBike
, just shoot a tweet over to
@30daysofbiking
and let them know. For the rest of you….come join the Army and have one heck of a great time with us during the month of April.
Enjoy Your Ride