United Kingdom: The Lake District by Bike
The UK is home to a myriad of National Parks, which is something I didn't know until recently.  Many of the parks have something which makes them stand out from the others – the Yorkshire Dales has its rolling hills, the Peak District has its caves and Dartmoor has its forests.  As for the United Kingdom Lake District, it has a number of beautiful lakes and awe-inspiring mountains which help to make it one of the more unique National Parks.  Who knew, right?
Well, after learning more about this….the first thing that comes to my mind is what would it be like to ride a bike in this area?  I had a talk with some of my UK friends and here's what they have to say.
Cumbria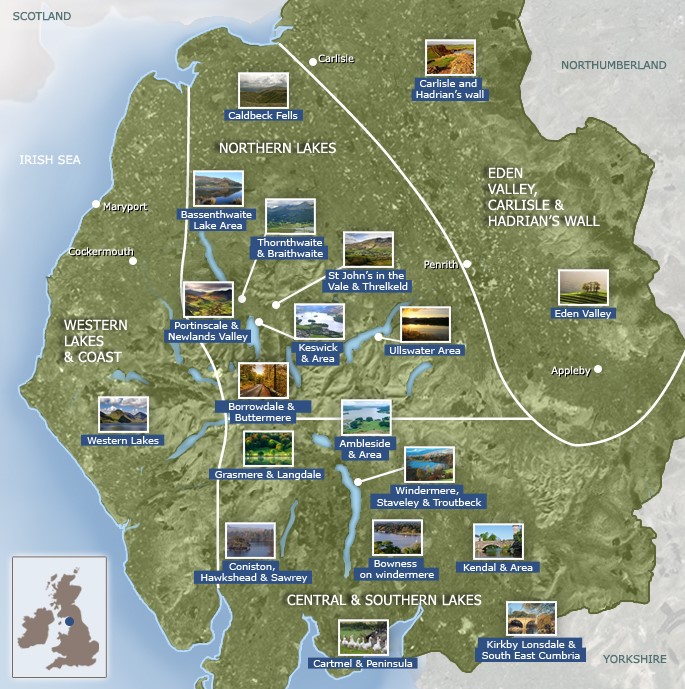 Source: http://www.cumbrian-cottages.co.uk/destinations
The Lake District lies almost entirely within the county of Cumbria, which shares borders with Yorkshire, Lancashire, Durham, Northumberland and the Scottish Borders and Lowlands.  It has a long coastline that's ideal for walking, trails for cycling, and further inland lies the famous lakes of Windermere, Buttermere and Ullswater.
As shown in this map above, there are four specific areas of the county which have their different charms.  Although I was most interested in learning what this area had to offer cyclists, I'm told that the Lake District is also a great place for walking, rock-climbing, and relaxing.
For cycling, my friends recommended riding the Claife Heights mountain bike trail, which was created to help people learn about the legacy of famous local children's author Beatrix Potter.
"It starts and finishes near Harrowslack Cottage, which is on the western side of Windermere just opposite Bowness-on-Windermere on the other side of the lake.  Along the 10-mile route, you'll be able to see Wray Castle, St Margaret's Church and Moss Eccles Tarn, all of which had a big role in the life of the great Ms. Potter."
From what I know about the landscape of the UK, I can just imagine how majestic and beautiful a ride there would be.  I've always known about the history and architecture of this area, but now that I know there are National Parks and great riding trails…..it's definitely on my "to ride" list.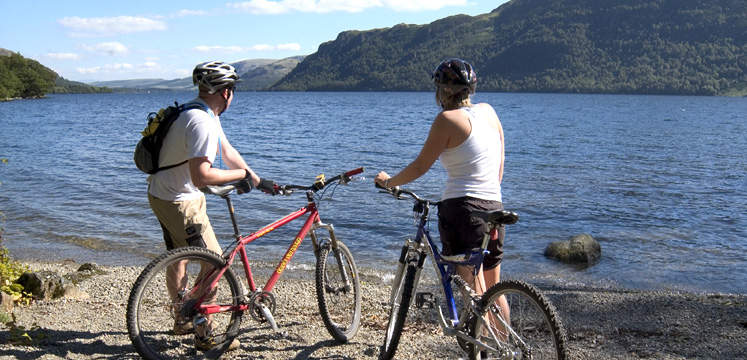 The entire Cumbria district can be broken down into individual areas.  Along with nice cycling routes, here is what each of them has to offer:
Central & Southern Lakes
The most popular part of the county, some of Cumbria's most notable lakes are here including Windermere.  Close to the neighbouring Yorkshire Dales, it is prime walking country, and towns such as Kendal and Windermere have plenty of places to rest or refuel after a long day of riding.
Western Lakes & Coast
For anyone who wants a peaceful holiday, heading out west is perhaps the best thing to do.  For anyone with an interest in surfing or simply lying on the coast watching the Irish Sea lap against the shore, this part of the county is perfect.  The towns of Whitehaven and Workington lie here.
Northern Lakes
Although not quite as popular with visitors as the Lakes further south, they're no less spectacular.  Ullswater, Buttermere and the Bassenthwaite Lake area are all here, each presenting different views and challenges which will delight and unsettle every rambler and cyclist in equal measure.
Eden Valley, Carlisle & Hadrian's Wall
Often forgotten, this plays host to arguably Cumbria's greatest landmark – Hadrian's Wall.  Erected during Roman times to keep Scotland from being invaded, it still stands today.  Carlisle is often underrated as a tourist destination, but it has plenty to offer in terms of shopping, dining and sites of historical interest.  Eden Valley is also overlooked, but it's great for a peaceful break.
photo c/o www.lakedistrict.gov.uk