The Next #LovingtheBike Generation
I'm sure I'm not alone in hoping that the next generation continues to work towards better harmony between cyclists and drivers, and that people continue to love riding bikes.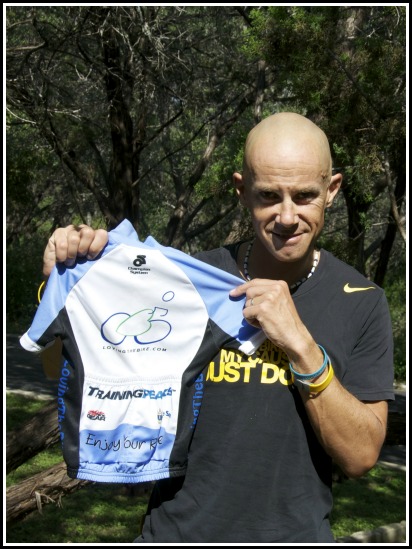 I'm not the biggest bicycle advocate out there, but I try my best to promote cycling as a way of life and how riding a bike can lead to a greater and more fulfilled life.  Today I want to celebrate the next generation of cyclists and give away a very tiny version of our Loving the Bike jersey.
This past summer we did a run of jerseys and kits and now have several cyclists around the world proudly sporting our brand as they ride through their hometown.  These kits were designed by our very own, Stevie, and they look amazing.  The folks over at Champion Systems took the design and created one hot kit….and I swear that it makes me windproof when out riding in it.  Probably bulletproof as well.
Both of my boys have one of these, and now I'd like to give away a jersey to someone else who has an up and coming cyclist…or who knows of a child out there who would look great wearing one of these.
I only have one extra to give away, so unfortunately the size of the jersey is limited.  The dimensions are as follows, and likely suitable for someone around 3 years old (give or take a few months).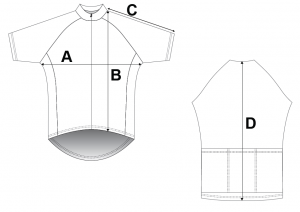 A: 12 "
B: 16″
C: 9″
D: 16.5″
Enter to Win:
The contest is now closed.  Congratulations to Tom who receives a cute little Loving the Bike jersey for the young cyclist in his life.  Thanks to all of you who entered.  Oh, and thanks to those of you who added the great pictures as well….we need all those kids in Loving the Bike kits.  Watch for another order run  in the Spring.
All you have to do to enter is leave a comment telling us about your little cyclist and why they are deserving of this Loving the Bike jersey.
Social Media Bonus:
Receive one bonus entry by posting the following on your social media networks (maximum of 4 entries if you leave a comment and do all of the following):
Twitter – "I just entered to win a hot looking kid's #LovingtheBike jersey: http://wp.me/p1oH5M-2PW"
Facebook – "I just entered to win a kid sized Loving the Bike jersey and want to tell the Facebook world all about it: http://wp.me/p1oH5M-2PW"
Google+ – "I just entered to win a kid sized Loving the Bike jersey and want to tell the G+ world all about it: http://wp.me/p1oH5M-2PW"
Contest closes on Monday at Noon EST and we'll select a winner soon after.
We currently don't have any more kids or adult size jerseys and kits available, but if we have enough interest in them we can always do another run.  Contact me if you're interested.