The Road to Cyclocross
Yesterday we posted about a road cyclist moving into the world on cyclocross, but we wanted to provide further information and tips on this subject.  We feel it's on the minds of so many of you out there, and the more information you receive the better.
Our friend Karen Lynn from Sip, Clip, and Go Coffee helped out with the other post, but this time around she's going into more detail.  Have a look at what Karen has to say about taking the road to cyclocross.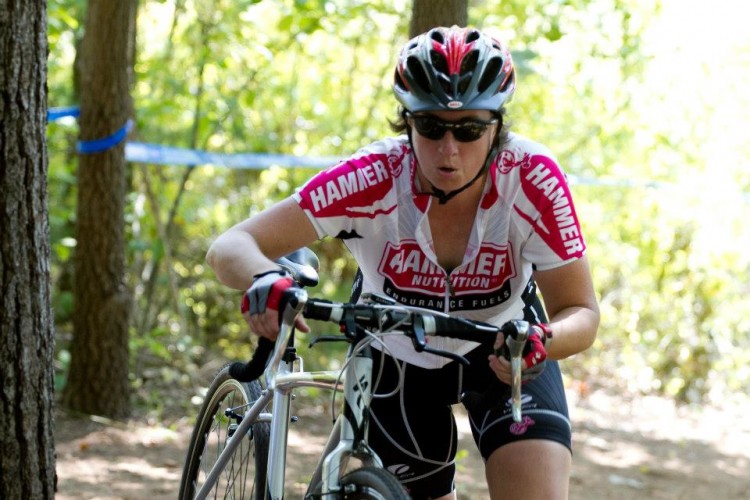 Road to Cross
By Karen E. Lynn
Once viewed as the fringe of cycling disciplines, Cyclocross is growing by leaps and bounds. The explosive growth in Cyclocross is attracting all types of cycling enthusiasts, including the more traditional road cyclist.  If you're considering diving into the groundswell of cyclocross, here are some answers to common questions that can help you get started.
The Basics
Do I need a CX bike? 
Not necessarily.  You can start off with a mountain bike.  They are perfectly legal to race with, as long as they are sans bar ends.  Mountain bikes are heavier and less elegant than a cross bike, but they hold up well on the varied terrain and are usually easier to get your hands on (especially if there is already one in your garage).  But, if you can borrow a CX bike and it fits you, it's a great opportunity to get accustomed to the slightly different bike geometry.
Can I change my road bike into a cross bike? 
No.  Cross bike require skinny, knobby tires, and cross bikes are built to accommodate the larger tire and the accompanying mud they can potentially bring.  Cross bikes are also designed for bike handling needed for the technical demands of any cross course.  Still, they have many attributes of a road bike like power and speed.
What about pedals and shoes?
You will need mountain bike shoes and appropriate clipless pedals.  While not an absolute requirement, if you are a road cyclist you are already accustomed to clipping in and the added benefits of clipless pedals; better power transfer and higher efficiency of pedal stroke.  Mountain bike shoes with cleats are necessary for running up muddy slopes with adequate traction.
What about all the dismounting and remounting?  That looks complicated!
If you can find a cyclocross clinic, sign up.  This is an excellent way to learn the basics of cyclocross, including dismounting, remounting, and shouldering the bike.  Off camber turning is another important technique that in essential to cx racing.  You can find several local cyclocross clinics listed on Bikereg.com.  Also, check with your local bicycle club or bike shop.  They can be a terrific resource in learning where local clinics are being held.  At clinics, they sometimes have extra CX bikes available to practice on.  Check with your event organizer.
Of course, just like every other piece of knowledge on the planet, you can simply Google it.  The inter-webs provide endless videos, articles, and information on cyclocross.  They are some excellent instructional videos that are free.  Here are some free ones from the pros:
Georgia Gould:
[youtuber youtube='http://www.youtube.com/watch?v=hxhK4yvjCN4′]
Todd Wells:
[youtuber youtube='http://www.youtube.com/watch?v=pPDklqVnKXg']
For a really complete tutorial (but not free), 2012 National Champion Jeremy Powers has a downloadable video packed with a soup to nuts presentation on cyclocross techniques.
Jeremy Powers Cross Camp:  http://jeremypowerscrosscamp.com/
The Differences are in the Details
One of the very different aspects of cyclocross compared to road cycling is how disruptive it is. Road cycling is often a long steady effort.  Cyclocross courses are designed to keep you sprinting, braking, turning, dismounting, shouldering, running, remounting, climbing, cornering, and sprinting again.  Courses can be technical and will change over the course of a lap, meaning you have to pick new lines each time, explore new ways to get over that rise and then slam into a hairpin turn through 4 inches of soft sand.  This is what I have found people love most about the sport.  It requires fitness, technical skill, and good, quick decision-making. There are a hundred decisions to make each race and mistakes will be made. Part of the game is making the right decision at the right time, and making a few mistakes as possible. One wrong choice can set you back 10 places or more. This is part of the fun.
Training
Just like road cycling, intervals are used to build power and speed.  Many Cross racers use the summer months for longer rides to build endurance and then switch to shorter more intense efforts in late summer and autumn.  Cross races are short: typically 40 minutes for women and 60 for men, but the effort is extremely intense.  You will need to dedicate time to skill work like dismounting, carrying and shouldering, and remounting.  When is comes to skill work, the best advice is to start off very slow and repetitive until you can add speed.  Practice riding on different surfaces and conditions like dirt, grass, gravel, sand, and mud. Rainy days are still training days. Because CX doesn't stop if its raining or snowing. Cyclists have always embraced pain, but throw in a 30-degree day, frozen ruts of mud, and slippery snow and you will understand that when it comes to pain, cyclocrossers make it an art form.
Culture
While road cycling has a certain formality to it, cyclocross is where you can really let your hair down.  The racing can be very serious, but it's not without it's shenanigans.  It's not uncommon to receive a beer hand-up, or have money tossed onto the course to be scooped up by passing riders.  Dressing up is sometimes the theme to the race (Halloween is especially good for this).  The culture of cross is warm, welcoming and friendly, and new racers receive lots of encouragement.  There is a certain recognition by all those participating that the sport is, well, kind of crazy.  Sure, there are pro cyclocross racers, but for the rest of us, we race for fun, for fitness, for healthy competition and to challenge ourselves in extreme conditions. Taking it too seriously would be a little against the point.
Cyclocross is a great way to extend your cycling season, stay fit and play in the mud with new friends.  Although the season kicks off each Fall with CrossVegas in mid September, you can find a race nearly every weekend within a 100 miles from home.  The fun starts now.  Will you be there?