Tips and Tricks for Family Bike Rides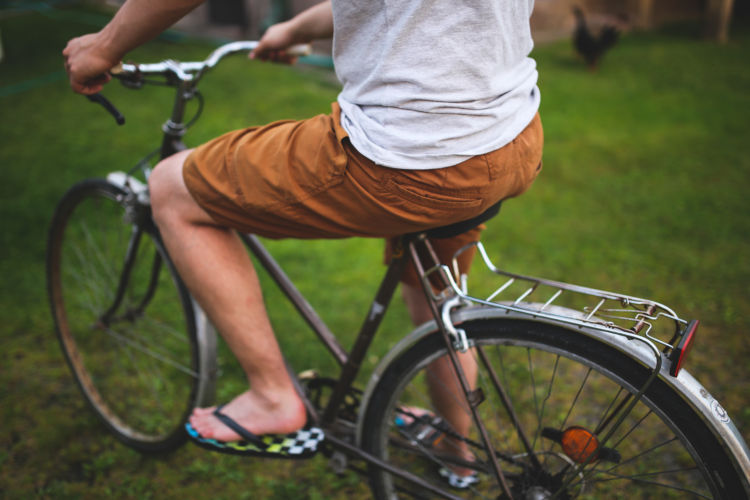 Tips and Tricks for Family Bike Rides
by Paul Denikin
Bike riding is a great way to have fun, exercise and travel. As much as I want to dust off the old bike that's been hanging around the garage and start training for cross country cycling, we'll leave the long distances to the professionals. Going on family bike rides was always my favorite thing to do when I was a child. There was something about being together with my family while enjoying a nice summer sunset that must have struck a chord. What going on bike rides also taught me was there were other ways to travel other than just jumping in the car or plane. To this day if my destination is less than a half a mile away, I'm riding my bike. Riding with children does have its risks, but as long as your little ones are under proper supervision and are following the rules of the road, it will be a great family outing. Here are some great tips you can use while biking with children.
Safety First
As clichéd as it sounds, safety first! You must use the proper safety precautions to prevent any unseen accidents. A bike is not a toy, it is a vehicle. You and your child should have a bike helmet that is the proper size. You should also adjust the bikes to fit the rider. If you stand over the bike, there should be 1 to 2 inches between you and the top bar of your bike. Make sure to wear proper clothing as well. You should be able to see and be seen by oncoming traffic when riding. Were bright colors like orange and reflective colors to make sure cars can see all of you riding. A quick tip to decide if you should be riding on the street or sidewalk. If your child is 10 years or younger, opt for the sidewalk, they may not be ready to make proper decisions when riding on the street. I never liked to do any of these things when I was a kid, but am surely appreciative to my parents for teaching me the right and safe way to ride in the present.
Have a Destination
There were not many bike rides I can remember that were better than when we had a place to go. It didn't matter where – the gas station, my cousin's house, the grocery store – these all gave me a purpose. Not being able to drive a car, these family trips gave me a sense of accomplishment. I "drove" myself to the store, all by myself (and with Mom or Dad). Give your child a chance to lead the pack too. He or she can get familiar with the neighborhood roads and acquire a sense a direction. This will also give you a chance to relax and rest up for the journey to the next destination, or home.
Think Outside the Box
When I was a kid and wanted to watch TV, it was on the family television in the living room and the whole family watched the same thing. This also stood true for when I acquired my first video game system. It was connected to that same family TV and I had to find time when no one was using it first to play. That being said, you could find me outside playing with my friends 7 days a week, activities included riding a bike. There is something to be said about the dependency of electronics and today's youth. They need to understand that not all entertainment comes from a box. When you are riding a bike, you are immersed in the nature around you. Everything from a small hill to an unknown trail discovered while riding, can become an excursion into nature. This teaches your kids that not all fun comes from a video game, computer, or smartphone.
Paul Denikin began learning about DIY home repair projects after his daughter, Maggie, was born with special needs. He has learned a lot through trial and error as he has worked to make his family's home safe and accessible for her. Today, he shares his DIY knowledge on DadKnowsDIY.com, a website that offers home improvement project how-tos and other accessibility information.
Photo c/o of Pexels.com