Top 4 Items for a Winter Bike Commute
It is pretty easy to get up in the morning, grab a cup-a-joe and hop on the bike to ride to work…when it's warm out.  However, cold weather presents an entirely new group of challenges.  It seems like the colder it gets, the harder it is for me to just get out of bed, forget riding to work.  More gear to keep you warm means more time to get ready, means more time to  talk yourself out of the bike ride.  Long or short, riding to work in the cold weather adds a whole new element to your commute.
You may not be a big fan of spending money on fancy skin suits, cool commuter shoes and bags, or any gear like that.  When it comes to commuting, some gear you can do without, but in the cold weather months, you shouldn't be putting your safety at risk to save a few bucks.  Yes, riding in the cold is more dangerous than riding in warm weather.
Wearing too many layers causes you to sweat, sometimes without you even knowing it.  The stop and go of commuting doesn't often lend itself well to maintaining a constant body temperature, meaning you get really hot for a few blocks, start sweating, then stop and cool down at the next light.  This can happen in warm weather plenty as well, but when temperatures dip below freezing, suddenly your cool downs could put you at risk for a variety of ugly consequences, especially if you have a good sweat worked up.
It's important to get some gear that can keep you warm without making you overheat at the same time.  Winter gear is expensive, but fortunately you don't need to go out and waste money finding the right stuff to solve that problem, because you can come here and read what has already been tested.  Here are four items I have found are 100% worth the money and are sure to keep your temperature even on your ride to and from work.
Pearl Izumi Pro Thermal LS Jersey: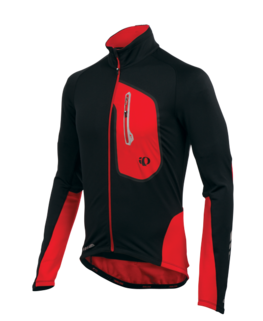 Think of this amazingly warm and wind-resistant article of clothing as a cross between your favorite fleece and a bike jersey.  Made using a Minerale thermal fabric, this full zip jersey is heavier than a wool jersey and every bit as comfortable as your favorite pull over.  Like most cycling jerseys it comes with the standard three pocket back to ensure easy access to your commuter snacks and gear on the ride.
This jersey also has a fantastic breast pocket for your cell phone that has a slit on the inside to feed your headphones through so they don't dangle out in the cold or get caught on your bike while riding.
Like all Pearl Izumi gear it does run a little small, so don't be afraid to go a size big so you can add a long sleeve t-shirt layer underneath. It won't do the trick by itself when temperatures get down to freezing, but the simple addition of a turtleneck or long-sleeve t-shirt is all it takes to ride in the coldest of weather.
Endura Dexter Windproof Gloves: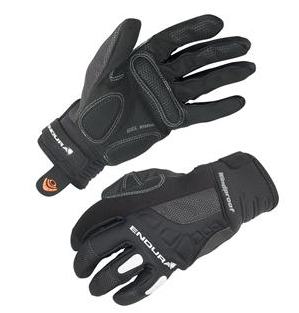 Gloves might be one of the most important things you can spend money on for a winter commuter.  Even with temperatures in the 40's, riding without warm, insulated gloves has left my fingers feeling more numb for far longer than I am comfortable with after arriving.  Something about the combination of slowing blood flow from leaning on your handlebars a little more because you are tired, and the wind battering you can make your fingers the very first thing to suffer.
Endura's Dexter gloves are the best glove I have found for commuting.  You can't just purchase a cheap pair of gloves from Walmart…the wind cuts through more than you would guess.  These gloves are insulated and warm with great grip and feature tightly woven fabrics that keep even those high-winds from Sandy at bay.  Far superior to anything I have tried from Giro, Smartwool, or even the leather of Knog.
Smartwool PHD Ski Medium: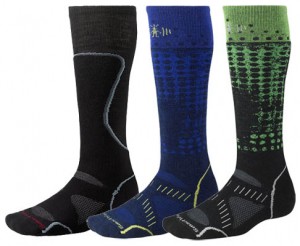 Your feet are equally important to take care of.  Smartwool are pricey, especially for socks, but they are worth every penny.  The PHD Ski Mediums are an over-the-calf sock so they keep your entire leg warm.
I find that while leg-warmers are nice, there really isn't much need for anything more than jeans from the knee to the waist.  If you need to, drop to a lower gear, or get a fixie to commute on…spinning will warm those knees up right quick!
There isn't much that needs said about these socks to be honest.  If you have never owned a pair of Smartwool socks, just buy any pair at all and you will never be able to wear a normal sock again.  If only they had toe socks…I would be in heaven.  I love Smartwool.
Beard Head: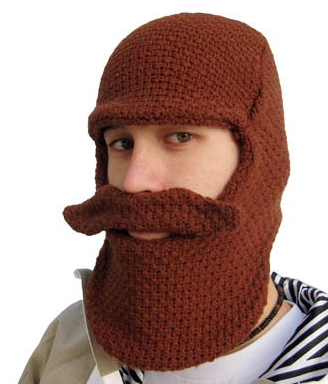 Your torso, your hands, your feet, and lastly your head.  As a bald guy, proper headwear in the winter is critical.  Now, you could go and get a standard balaclava if you wanted to.  They fit under your helmet (which you should always wear) and are typically pretty darn warm… but that just isn't any fun.
I discovered the magic of Beard Head a long time ago.  Not only am I bald, but I also don't have any facial hair…nor have I, nor will I (Google Alopecia Universalis if you are interested).  That's why the idea of a knitted hat that provides me with a beard is way more awesome than a boring old balaclava.  My wife purchased me my Beard Head many years ago when she got tired of me complaining about not being able to participate in Movember.
It is now a part of my winter riding outfit.  The hat fits perfectly under my helmet (this is the original model by the way) while the beard and mustache keep my face perfectly warm.  In all seriousness this hat is seriously the best thing I could have ever found to ride with.  It blocks out nearly all the wind while really keeping my face warm, but also the hand-knitted fabric allows me to breathe normally without the hat getting all moist from my breath!
It's amazing, and I love it.  Go out and buy one (be sure to check out the variety of mustaches if you would like to mix it up).
And that is all there is to it.  My top 4 items for a winter commute that are worth every penny.  If you want to ride in the cold, don't ask questions… just go buy this stuff and thank me later.  Keep the rubber side down and don't be afraid of those low temperatures!
Aaron Madrid