Trestle Bike Park Photo
I've already shown you one of my favorite cycling landscape photos, and this one of Nadia Rowe taken at Trestle Bike Park is definitely another one.  If you haven't already seen the post and photo highlighting Dan Joder's incredible Monument Valley RAAM shot, go check it out right here.  But we're back with another fantastic photo, this time taken by Alex Molick of Denver, Colorado.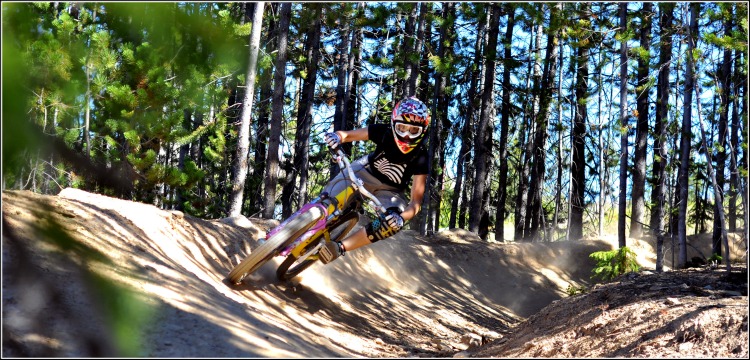 Nadia Rowe at Trestle Bike Park in Winter Park, Colorado – Photo by Alex Molick
Photo Details:
Date: September, 2010
Camera:  Nikon D90 | Nikon 50mm 1.8 | f/3.2 | 1/400 sec exposure
Description of photo by Alex Molick:
The rider is Nadia Rowe, easily the most incredible female rider I've ever met, riding with her have been some of the best times on a bike I've ever had, she's always got great energy, skill, and style on the bike.  This photo was shot as she came ripping through a berm below a really fast and incredibly fun wooden double through the trees – an amazing experience riding through as you hear the sound of your tires flying over the dirt singletrack leading to the jump, then loud and very distinct sound of your bike on the wood….followed by complete silence as you soar over the gap, and then bam, you're back on the ground and flying through a hard, gravity-fed turn.
The editing on this photo was minimal – lighting and color tweaks, a tad bit of saturation increase, and cropped to a wide profile.
Alex Molick: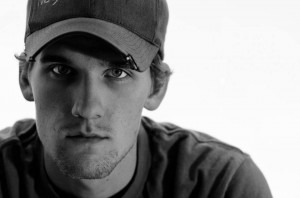 Alex is a Denver, Colorado based photographer.  He doesn't consider himself a pro, but definitely enjoys photographing the world around him…and expanding his horizons and always learning more.  He is also a bicycle mechanic, trail worker, and a land use/geology major.  A native of Colorado, Alex is a passionate outdoors-man, always trying to integrate photography projects into as many aspects of his life that he can.
His photography goals are simple: capture Colorado, and the world, as he sees it – from wherever his adventures take him.  You can find Alex on Facebook and Twitter to get the latest updates, news, and random projects!
Cycling Landscape Photo Contest
Tomorrow we are dropping the details on what I feel is our most exciting contest ever.  You can get a head start by collecting the greatest photo you've ever seen (or taken) that includes a cyclist and an amazing landscape backdrop.  Then head on back here tomorrow for the goods on this contest, and the awesome prize packages available.