Virtually Fixed

It's been about three years since I last had a professional bike fit.  Although it was done virtually, it totally helped my performance and comfort on my road bike.  Best of all, my bicycle fit was what started a fantastic friendship with my (now) good friend and Cycling 360 co-host….Victor Jimenez.  If you weren't a follower of ours back when I was virtually fitted, here's the links explaining how it all went:
Ideally, you should have a professional bike fit each year to make sure you're riding in the ultimate position….but I've sort of neglected this.  To be honest, I've felt great on the bike so I didn't feel I was in need of a re-fit.  Until now.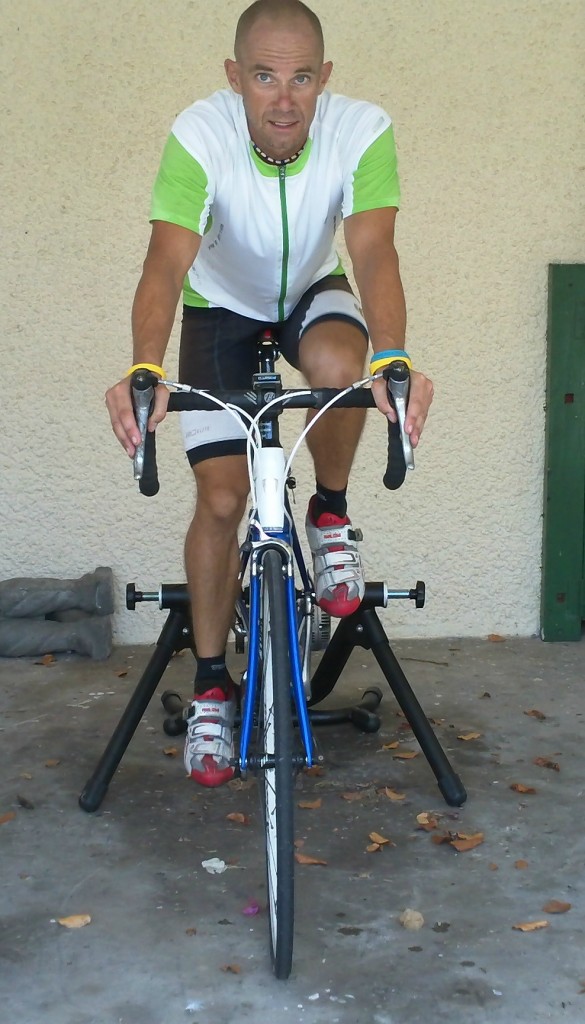 For the past couple months I haven't felt exactly right, and my shoulder has begun to ache once again.  I've moved my bike around a lot over the past couple years, so I figure I must not have something set up properly.  So I enlisted the help of Victor once again.  You know, he isn't called the Guru for nothing…and I was sure he'd get me back on track.
I sent Victor videos of me riding on the trainer from three different angles so that he could access how I was looking.  After looking them over, his first words to me were "Dude, you're messed up".  Then he asked if I'd ever hurt my right shoulder somewhere along the way.  My response to him was, "Dude, don't you read my blog".  I guess he missed my post about how I have a messed up shoulder due to being hit by a car quite a few years back.
The video shows what's happening better than this picture on the right, but you can tell that my right shoulder drops when I'm riding.  Because of this, it's creating the ache that I'm feeling on the bike.
Being the bicycle guru that he is, Victor explained a few ways I could help things out and also suggested I do some shoulder strengthening exercises to improve things.
I put his prescription into effect immediately and am working towards feeling as strong and comfortable on my bike as I have in the past.  Victor has virtually fixed me once again.
If you'd like more information on Do-It-Yourself bicycle fits, have a listen to our Cycling 360 Podcast (click the play button, or play in new window link below) or connect with Victor himself.
Podcast: Play in new window | Download