Water Bottles Revisited – The Clean Bottle
Back in June, we posted an article about How to Clean Your Water Bottle – Shake What Your Mama Gave You. We went over some cleaning methods for plastic and aluminum bottles, and talked about the importance of having a clean water bottle.  There were some great replies, including one from our Cyclelicious friend, Richard, who commented back with a recommendation to try out the "Clean Bottle".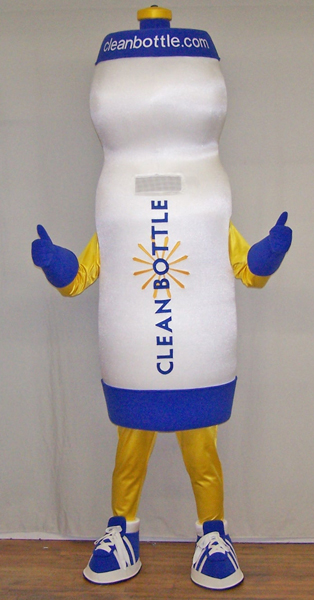 Before Richard brought it up, I hadn't heard of it so I checked out their website and found out that the Clean Bottle has a screw top and screw bottom so that it's easy to keep clean. At the time, that's about as far as my research went….and I honestly forgot about it. Then a couple weeks ago, I was contacted by the guys at Clean Bottle to see if I'd like to try one of their bottles out.  I was instantly reminded about this great, simple idea for a water bottle….which brings me to today's review.
There are three main ingredients to this funky water bottle option:
Patent-pending, leak-proof , screw-off bottom

– As you know, scrubbing out the bottom of a water bottle can be just a little bit challenging.  The Clean Bottle allows you to take off the bottom and get right in there for cleaning.

Made with 100% non-toxic, BPA-free plastics

– Most bottles (including The Clean Bottle) made in the past couple of years are using much better plastic which makes it safer to use over and over.

10% of all Clean Bottle profits are donated to eco and cycling friendly charities that you vote for

– This is a pretty cool thing and it's great to see that they are giving back along the way.
All this stuff is great….but you know what made me a fan of The Clean Bottle?  It's the fun loving attitude, creative ideas, and Guerrilla warfare marketing that these guys are doing.  As a marketing guy myself, I have to give it to these guys for the crazy antics and attention getting techniques that they have done to promote their company.  To see what I'm talking about, check out their blog which includes some awesome photos and events that they've been involved with. One of their premier moments has to have been at last year's Tour de France…this video describes it all:
[youtube]http://www.youtube.com/watch?v=OhCyB3xLmYg[/youtube]
To order a Clean Bottle, or for more information….visit them at www.cleanbottle.com.