We Lost Another One of Our Own
I wasn't sure I would write about the cycling tragedy that happened here in Austin over the weekend.  But yesterday I cycled past the spot it occurred….and after being overwhelmed with emotions, and just had to pay tribute as well as express my rant.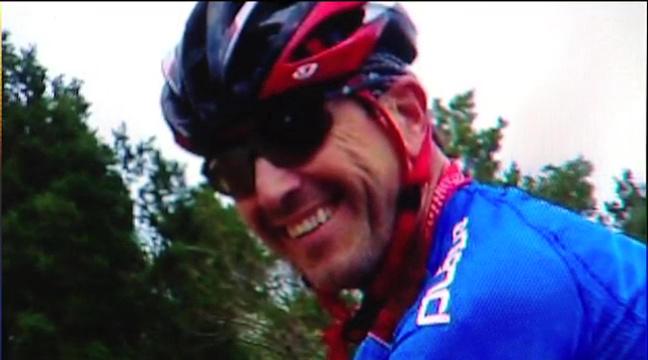 Last Saturday, 55-year old cyclist Verter Ginestra was struck down and killed on a popular Austin cycling road in the middle of the afternoon.  This isn't the first cycling fatality to happen in this city (and just earlier in the week another local cyclist, Evan Baird, was seriously injured in a hit and run), but it's the first time a road cyclist has been struck down since Gay Simmons was killed in 2006.  Any time a cyclists gets hit or killed in this city (or anywhere) it saddens me immensely….but this one really hit home.
Verter was a cyclist with as much or more experience riding the Austin roads as I have.  He was cycling on a road that I've ridden on countless times.  He was safely and legally riding on a shoulder that is even wider than each of the two car lanes beside it.  This never should have happened.
Yesterday, I rode past the spot where Verter was killed.  As I approached the flowers and memorial laid on the side of the road, I tapped my fist to my heart and then pointed up to the sky.  For that brief second I was connected with every cyclist who has ever lost their life on a bike.  Emotions immediately overcame me and I could feel things welling up inside.  I shook it off and stopped myself from breaking down in tears, but as I write this now….they have come back again.  We have lost another one of our own.
Okay, so here is my quick rant and I hope at least one person in a vehicle hears what I have to say.  Please Get Bikes on the Brain.  Please Be Aware of Your Surroundings when in your car.  Please Don't Text or use a Cellphone (if you're so freaking important that you must be on your phone while in the car, then hire someone to chauffeur you around so you can sit in the passenger side and text and call all you want).  Please don't drive a car if you're not feeling emotionally or physically stable.  Please Coexist on the road. Please Share the Road.  Please Be Kind to Cyclists.  Please.
Pedalling For Safe Roads
Later today, a rally is being held here in Austin so that cyclists can raise their voices and concern.  The Please Be Kind to Cyclists organization has put together the Pedalling for Safe Roads Protest and if you're in Austin I hope you'll join in.  Find out more about this event on the Pedalling for Safe Roads Facebook page, or read the details in the poster below.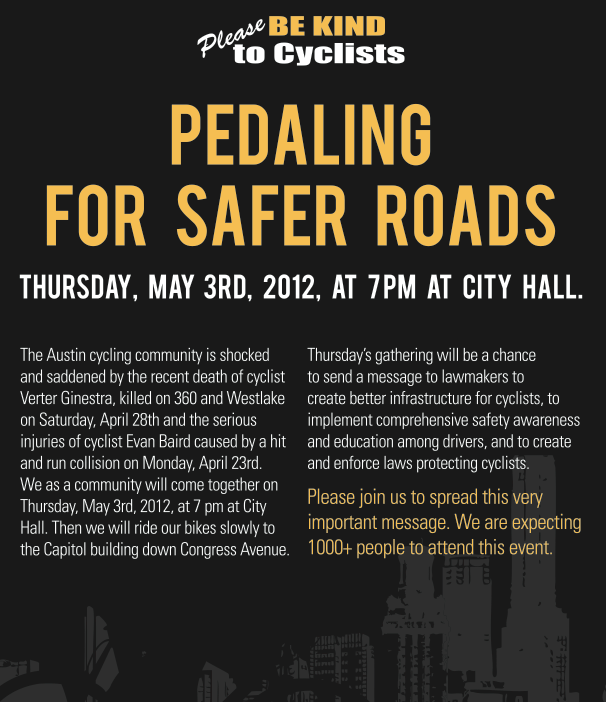 We need safer roads and more cycling awareness all over the World.  This isn't just happening in Austin…in fact, Cyclelicious reported that there were 9 cyclist hit and runs in California last week alone.  I don't know what else to say, but I sure do hope that change is coming.