We Need Nature as Much as Nature Needs Us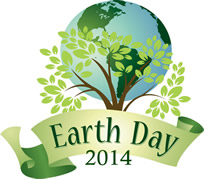 Earth Day 2014 happens tomorrow, April 22.  Arguably one of the least celebrated holidays of the year.  Unquestionably the most important one.
A few years ago I wrote an article about the interaction between us and nature, and how each of us relies on the other for life.  I don't think its coincidence that it happened this way.  In order for our world to flourish…and for us to continue having Earth Days, we must treat it as we would our own Family.  Nature needs us as much as we need it.
Up until that article I had thought I was the only Kotyk that was concerned about our planet, but with my Dad's recent involvement in the Watershed Program for Saskatchewan, he has become an Environmental expert and shares his Son's views.
After that article, my Dad responded by saying:
"A very good analogy, but unfortunately if the majority of the civilization do no begin to respect nature and do not stop taking water and the health of our natural environment for granted, we will not have a clear sky, clean air, or clean healthy water.
We all must take a role in protecting, restoring and enhancing the aquatic and natural environments ecosystem or we will push pollution to the limit and that would make it difficult to bring it back to its original state.
Hopefully our governments and our people will come to their senses before it is too late."
I couldn't have said it any better, Dad.  Thanks for sharing your comments.  Thanks even more for caring about our World.
Tomorrow is Earth Day.  Listen to what my Dad has to say.  Do something kind for our World tomorrow….and always.
Green Up Our Cities:
[youtuber youtube='http://www.youtube.com/watch?v=D806hNr-mrk']
Happy Earth Day