Welcome to Austin
If you didn't already know….I'm in Austin right now.  Yeah, Austin, Texas – The state capital that prides itself on being far from ordinary. In fact, they celebrate being "weird." Austin is a hot spot for creativity and embraces its community of musicians, artists, entrepreneurs and progressive thinkers. It's home to a singer named Willie, a cyclist named Lance and a Longhorn steer named Bevo. And it is also known for being the Live Music Capital of the World, a title taken pretty seriously with nearly 200 live music venues….and ACL coming up this week.
On top of all that, it is a spectacular place for cycling.  Great routes, infrastructure, and riders….this city oozes and drips with everything cycling, and I love it. I am so happy to be back in the ATX and so far Loving the Bike has been welcomed with incredible Southern hospitality.  This past weekend I experienced a trifecta of cycling goodness thanks to some very special Austin people.
Sweet Leaf Tea
First, I met up with April (aka @sweetleafApril) from Sweet Leaf Tea.  She showed me and my two oldest kids around their office, introduced us to some great Sweet Leaf folks, and let us take home a bottle of Sweet Leaf Tea.  Being from Canada, I've never tried their product before (they don't currently sell into Canada)…but I can tell you that I am now a major fan of their Organic half & half tea.  It's a must…..go on and get one.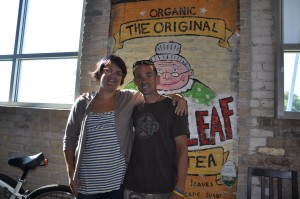 10/2 Ride
Next in line was the Mellow Johnny's 10/2 ride.  October 2 is officially the LiveSTRONG wear yellow day which is celebrated each year because it was the day Lance Armstrong was diagnosed with cancer.  He's the king at taking a number and making it famous…and this day serves as a great reminder of so many important things.  I'm not typically a group rider kind  of guy, but I really wanted to take part in this event.
The ride was fantastic, and although Lance didn't make an appearance like he did last year…I spent the morning with some great Austin riders and celebrated 10/2 in style.
Loving the Bike Meet Up
The weekend was wrapped up with a fantastic event put together by Allison Peacock, Peacock Omnimedia, and Austin Cycling Meet Up.  It was a welcome party for me and my blog….and has definitely been the highlight of being here in Austin so far.  I got the chance to meet so many great people that I've tweeted, FB'd, and interacted with on the blog.
The world really has become an interesting place with the introduction of social media and online interaction….and from what I experienced this weekend, it is a far better planet because of it.