When Fatigue is More Than Fatigue
When Fatigue is More Than Fatigue
by Layla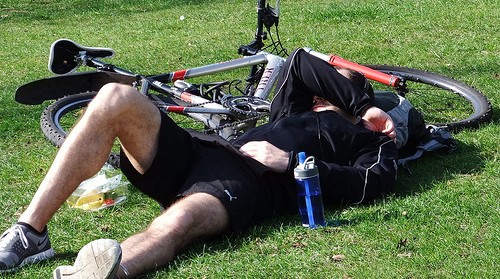 As much as I love cycling, I've been noticing that my legs are starting to feel heavy after each ride. Doing some research, I realized that most of this boils down to fatigue. However, that's just part of the story. There are actually different types of fatigue and the type determines what you should do about it.
There's the normal fatigue that occurs after a good ride. I'm familiar with this, and I can say that the leg heaviness that I experienced is definitely not part of that. Usually, after a good ride my legs might feel a little rubbery, but they don't feel like my feet are encased in concrete, or like my blood has been replaced with sludge. In fact, when I have normal post-workout fatigue, I can almost feel my blood zipping through my veins.
There's the sugar crash that you get when you use up all your glycogen stores on a long ride – like more than two hours long. During those my legs definitely feel like mud, but I also have to ride for a pretty long time, and forget to use a glucose supplement to get to that state; and lately, I've been getting to that state after pretty short rides.
There's also the fatigue from over-training and overreaching that can happen after days, and weeks of training at a high level. While I can definitely see my leg heaviness being caused by that, even when I backed off the heaviness didn't go away.
Since none of the other types of fatigue seemed to fit, that left the final type of fatigue, pathologic from an illness or condition.
I talked to my doctor, he ran some tests, and it turns out that the circulation in my legs is a little sluggish, and that I have the beginnings of peripheral vascular disease. I was surprised by the diagnosis because I thought stuff like that only happened to sedentary people, but it turns out that it can affect active people too. In my case heredity was the culprit, but it can also be caused by conditions like lupus or diabetes.
Although I have a pretty mild case, my doctor did suggest that I wear compression garments during my rides. Compression therapy products help keep the blood from pooling in my lower leg, which is what was causing the heaviness after my ride. Compression garments can also bring down some of the swelling and pain in my feet and legs.
The best part is that they work about as well, (and last about as long) as my regular bike socks so I'm not sacrificing functionality by using the compression models.  I even have a couple dress pairs that I wear when I'm not biking.
My doctor has also prescribed other treatments in addition to the compression clothing and everything together has seriously helped my heavy leg problem.
If you notice that your post workout fatigue is worse than it should be, especially if you notice that your legs feel like they've been wrapped in wet carpet, you should definitely check with your doctor.
It could be nothing, or it could be a circulation problem that's easy to treat, but only if you catch it early.
Photo c/o Steady Health