Where The Wild Things Ride
My good friend, Shawn from Texas Mountain Bike Trails, is in to tell you about one of the reasons he loves riding a mountain bike.  He shares some great insight and a list of interesting things he's come across while riding trails.  Enjoy.
Where The Wild Things Ride
by Shawn McAfee
We're all about loving the bike here and seriously, what's not to love?
But then there are also some things that need to change occasionally.  I mean, you wouldn't wear the same pair of under-roos every day would you?
Some things on the bike just have to have a little variety.  Mile upon mile of monotonous road repeated every day just gets painful.  Changing up your route can do you a world of good.
But, what if you took that to the extreme.  Instead of taking the same road you ride every day, you instead ditch the road all together.
There's a whole other world of riding out there, and that's where the wild things ride.
Riding the road you get exposed to a lot of dangerous "wildlife" like suicide squirrels, distracted drivers (Drop the phone-save a life) and loose dogs.  But what if you traded that in and got to ride with some real wildlife.
I'm a mountain biker.  I love being in the dirt.  It's a soul-soothing harmony of dirt, rubber and pedals every time I make it out.  One of the things I love most about mountain biking though is the incredible amount of wildlife I get to ride with.
In my off-road adventures I've come across all of the following:
Deer
Raccoons
Armadillo
Snakes
Birds of every kind
Bunnies
And then I've also come across a few slightly more frightening animals as well:
a 300 pound wild hog
Coyote (multiple)
A bobcat
A naked man…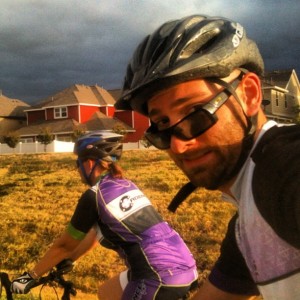 Yes, seriously to that last one.  That was… odd and unfortunate.
The point being that I never know what I'm going to see.  Every ride is a new adventure filled with excitement.
I still love my road bike too, in fact just last year I fell in love with crit racing.  But the road just has something missing to me.  I thrive on the unknown and love a good adventure.
So maybe, if you're getting into a riding rut, this weekend you should give mountain biking a go.  If you don't have a MTB, try stopping at your local bike shop and see if they have one you can demo for a ride.
I promise you first hand, it will give you one more reason for loving the bike.
Note from Darryl:
We ran a post a while back with a list of animals that people have come across while riding.  Head over to our post, "What Have You Passed?" and add to it.  Oh, and be sure to check out www.texasmountainbiketrails.com.  Shawn has an awesome website with incredible information and fantastic writing.