Why Pro Cyclists Should Read This Blog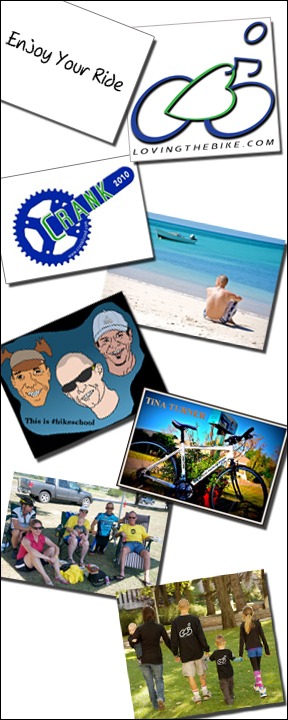 We don't specialize in cycling races, cycling technology, or cycling training…so why should a Pro Cyclist be a loyal reader of Loving the Bike?  Or why should any cyclist, for that matter?
In a word, Lifestyle.  Other than the fact that all of us cyclists (whether you're pro, bmx, commuter, road, recumbent, amateur, mtb, or anything else) are connected by two wheels on a frame, is the fact that we're all living the cycling lifestyle.  Cycling is a part of our life, and we somehow find a way to include the bike in every aspect of it….doesn't everything revolve around the bike?
I've always been passionate about Creating My Own Culture, and the Lifestyle to go along with it.  I guess that's why when it comes to cycling, Lifestyle is what gets stressed the most over here at Loving the Bike.  Sure, we talk about the bike…but we focus on the stories, emotions, and information that go along with it. We are a cycling lifestyle website and so proudly share our posts with you….everything from the bond between children and bikes, all the way through to information and stories on the top cyclists in the world.
So how does this apply to Pro Cyclists?  Well, just as the top business people in the world are searching out lifestyle coaches and consultants to help balance their lives and create more happiness….Pro riders (any riders, really) can help balance out their cycling life with a daily dose of the cycling lifestyle we serve up on our site.
"Business Lifestyle coach professionals is a major growth industry. At least 10,000 coaches work for businesses today. And that figure is expected to exceed 50,000 in the next five years."
-The Economics of Executive Coaching. Harvard Business School Journal.
We've been called "the cycling version of Life is Good" and that makes us feel great.  We're sure that has something to do with our popular Make it Happen Monday Series, but we do our best to make sure all our posts are motivating, inspiring, and include a little sprinkle of magic to make your day just a little bit better….not to mention your cycling.
We believe in Riding Bikes, Creating Your Own Lifestyle, Having Fun, Simplicity, Enjoying Your Ride, Being Goofy, Not Taking Yourself Too Seriously, and so much more.  On behalf of the Loving the Bike Team, I'd like to thank you for being one of our readers (friends) and we hope to bring a smile to your face and help balance your life for the better.
Why do you read this blog?  Really, we'd like to know the details so we can continue building a better and better Cycling Lifestyle space for all of us.
Note: We do have an expert Nutritionist as well as a professional bike technician and fitter on hand, so if you're looking for something more than just lifestyle be sure to let us know your questions and we'll provide you with incredibly helpful support.