Win a Viva La Bicicleta T-Shirt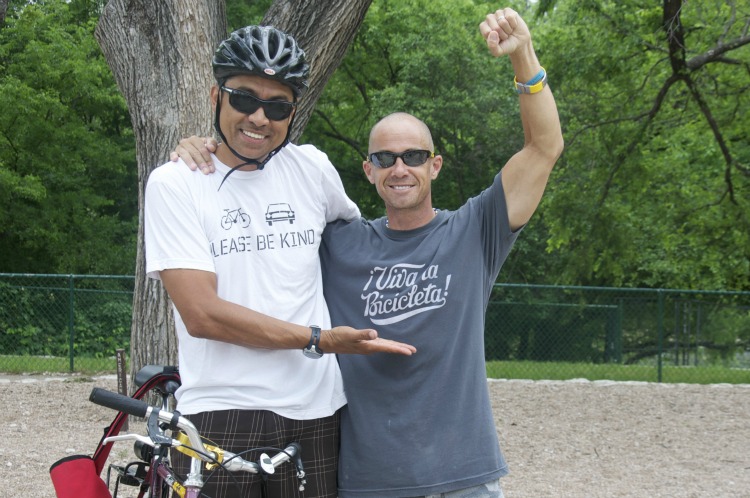 Like many of you, I have a ton of cycling T-shirts….but one of my favorites has got to be my Viva la Bicicleta.  Not only does it feel good and look great, but the philosophy behind the company is one that I totally believe in and support:
"Our philosophy is simple: get everyone out on a bike and riding."
Amen to that one, right?  I can also tell you that the feeling and passion behind this company is truly legit. I just so happen to personally know the good man who started Viva la Bicicleta and he is one of the most genuine people in the world.  His name is Al Bastidas, and he's also the founder of the Austin based, Please Be Kind to Cyclists organization.  Viva donates 10% of every purchase to Be Kind's, Victim Relief Fund (a program that helps uninsured bicycle riding victims of traffic accidents).
Okay, so if you don't know Spanish and haven't yet figured out what this name translates to, it is "Long Live the Bicycle" and was inspired by the idea that all the world's problems can be solved simply by riding a bike.  Amen, once again.
One last comment and then I'll give you the details on how you can win your very own Viva la Bicicleta shirt.  I don't know about you, but I'm quite particular about my t-shirts and only end up wearing the ones that really feel good.  I can honestly tell you that one of these is going to be the best fitting shirt you've ever put on.  My friend Al is a quality guy, and the Viva la Bicicleta products are definitely quality made as well.
Win a Viva la Bicicleta Shirt
This Contest is now Closed.  Congratulations to @jeremyridesbike and J B who win the Viva la Bicicleta shirt of their choice.  Thanks to everyone who entered and told us what Viva la Bicicleta means to you.  Be sure to head over to www.vivalabicicleta.com to get a shirt of your own.
We're giving away two T-shirts and here's what you need to do in order to get in and win one.
Head over to the Viva la Bicicleta shopping page and see all the designs they have available, and then leave us a comment including two pieces of information:
Which design you like best.
 What the phrase "Viva la Bicicleta" means to you.
Get your comments in by Noon EST on Friday and we'll announce the winner Friday afternoon.
Viva la Bicicleta is only able to ship within the US so unfortunately this one is only open to someone within the States.