Win Brite Buds: The World's First Reflective Earphones
We've talked about the earphone products from Far End Gear a couple of times in the past, and today we're talking about their brand new product called Brite Buds and how you can win some for yourself.
The Far End Gear company provides earphone based products for outdoor enthusiasts like us.  Seeing as it's founder is an avid road cyclists and outdoorsman, they know first hand what's important to their customers.

If an effort to allow people to listen to music and maintain alertness to their surroundings, Far End Gear provides specialized earbuds that mix both channels of audio so you get stereo quality coming through a single ear.
They just recently added Brite Buds™ Reflective Cord Earbuds to their offering mix and are the first to offer this sort of product.  They describe the Brite Buds as being developed "with the nocturnal athlete and outdoorsman in mind" because of how the cord makes you more visible in the dark.  But the product most definitely can be used at any time of day.
Win
The contest is now closed……thanks to all of you who entered.  Congratulations to Melinda and David B who both win a set of Brite Buds.  A big thanks also goes out to Far End Gear for supplying us with such a wonderful product.
I want you to try these Brite Buds out for yourself.  The guys from Far End Gear are offering up two sets to give away (and you can choose either the single earbud or stereo set if you win).
To enter, leave a comment letting us know why you like having music with you on a ride and how the Brite Buds are going to help you enjoy it.
Leave your comment by Noon on Friday and we'll announce the winners soon after.  We'll randomly pick two winners using random.org.
Other Products from Far End Gear
I have been promoting and talking about Far End Gear for over a year now because I feel they offer a great product with a good purpose…but up until a couple of weeks ago, I had never actually tried them out for myself.  As I've mentioned several times, I like to ride with my iPod even though it can be a heated topic among us cyclists…..and Far End Gear has all sorts of options for people like me.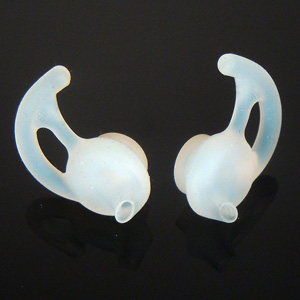 I personally prefer having earbuds in both ears, so their standard earbud options work best for me.  But the Brite Buds are also available in their stereo model or a single sided, stereo-to-mono version mixing both channels of sound from a stereo audio device into a single ear.
Another cool product that they offer is the BuDLoKs.  These replace the stock, in-ear budtips produced by other manufacturers and allows you to lock them into your ear with a soft silicone wing.  If you've ever had problems with your earphones falling out of your ears, you'll want to use these for sure.
More information on all of the products from Far End Gear can be found at www.farendgear.com.