Words for Paul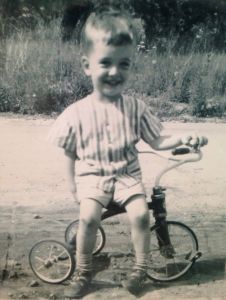 Wednesday was the memorial service for my friend who passed away last month. Over the past several weeks planning the service, choosing the caterer, designing the program, weeding through hundreds of photographs (including the one here, labeled "first bike" on the back), and taking care of logistics kept me distracted from the hard part: selecting the words to say about our friendship.
I haven't done much riding this week. Life – and death – has taken precedence over time on the bike. Yet, as I was trying to decide what to write, the ride I took the morning after he died seemed a fitting tribute.
About 250 people gathered at Chicago's Cultural Center to honor a man that I loved dearly. And these were the words I spoke…
Words are my passion. Words put food on my table and clothes on my back. Words are my creative outlet and I write almost every day of the year.

Yet, as I sat to write something for today words failed me. I stared at a blank screen. The blinking cursor mocked me.

Every story should start at the beginning, but how could I begin to tell the story of a friendship that changed my life? Can I paint a picture of an unlikely friendship between a truck driver's daughter from the south side of Chicago and a man who grew up in the same city, yet world's apart?

Should I talk about Paul the art collector? The philanthropist? The supporter of the arts? Or the dog lover? Can I point out his stubbornness or the fact he really couldn't really drive very well?

No, surely you will know that.

Which words should I choose to tell you about this soft-spoken, brilliant man who became my trusted confidante? A man who was there for me through every good and bad decision I made over the last half of my life, supporting me through heartaches and sharing in my joy. The man whose generosity extended to my entire family to help us through the death of my mother.

Is there a way to choose from hundreds of memories that are woven into a tapestry of our time spent together? I think not.

Can I remember how many sunrises he and Frank and I saw together? Nights spent talking and laughing, savoring wine and friendship. No, my memory fails me. But can you understand that our three-legged stool is forever out of balance?

My pockets would be full if I had a dime for every time he made me laugh until I cried. Do you know I would forego a vault full of silver for one more night spent with my two dearest friends?

Words. Only words.

Yes, every story has a beginning, a middle, and an end. And this ending has come too soon.

I will be forever grateful that "I love you" were the last words I spoke to him – and the final words I heard from him.

Yes, how can I begin to tell you…

They say time heals all wounds. For me, riding a bike and writing is the Band-Aid that stops the bleeding of my sorrow. So I will leave you with something I wrote the day after I learned of Paul's passing:

It's never good news when awakened by a phone call at midnight.

It was Frank. Paul had passed away that evening. I never went back to sleep.

I felt physically and emotionally exhausted that next morning. There were people to call and business meetings to cancel. There were plans to be made. I couldn't concentrate.

About noon, I just wanted to crawl under the covers and sleep, but instead, I went for a bike ride.

My legs felt heavy as I turned the pedals. I meandered up and down streets in my neighborhood, never venturing very far from home. My thoughts wandered and tears ran down my face.

I turned the corner of a street I had never been on before and spotted two cows on a front lawn up ahead. And I laughed out loud.

Do you have a story that is told and re-told every time friends get together? You know, one that becomes the folklore of your friendship?

Yeah, that story…

We were together in Santa Fe, and it was New Year's Eve. We were heading home to his place in Tesuque after another friend's party and I was a little tipsy. Vodka and altitude can do funny things to one's perception, you know. Luckily, I was not driving.

It's very dark at night once you're out of town. Very dark. All of a sudden we came across a cow in the middle of the road. She was just standing there, illuminated only by our headlights, looking at us. I'm not sure if you've ever been to Santa Fe, but it's not exactly surrounded by farm country. Seeing a black and white dairy cow was unusual to say the least. Seeing a cow just past midnight on New Year's Eve in the middle of the road in Santa Fe was beyond my comprehension at that moment.

I turned and asked, "Paul, do you see the cow too?"

To which he responded in his classic deadpan manner, "Yes, Suzanne, I see it too."

And we laughed our asses off. In fact, we could hardly get underway again because we couldn't stop laughing.

So when I saw these cows during my ride, once again I could hardly believe my eyes. It was as if he was talking to me. Reassuring me that yes, he did see the cow, and please, take comfort in decades of memories. Remember the laughter and tell the story. Again.

My heart is broken and I miss him terribly.

But I'm very happy I went for that ride.