Contest Time: Stomach of Anger
The T-Shirt Giveaway is officially closed and the boys from Stomach of Anger have selected a winner.
Kendall (aka @velofreak) is the winner with his entry of "I Am The Motor".  Good job, Kendall…..I'm looking forward to seeing that one on a T-shirt.
Thanks to everyone for submitting your ideas….I enjoyed reading them all.
"I'm really disappointed. My stomach is full of anger, and I want to take my revenge.  I will take my revenge in the coming days."

– Andy Schleck
It was almost six months ago, but I'm sure you still remember the day that a dropped chain on Andy Schleck's bike cost him the Tour de France.  Upon this happening, Alberto Contador chose to take advantage of the situation and put a nice time gap between himself and Schleck.
I won't get into the controversy, but Schleck (and others) felt that Contador should have taken the high road and waited for the chain to be put back on.  So following this event, Andy was fuming and responded to the press with his "Stomach of Anger" comment.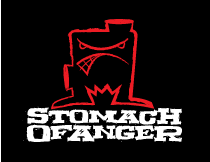 Michael Babcock and Kacha Azema liked this quote so much that they decided to build a company based on it.  They started their company, Stomach of Anger with a T-shirt based on Schleck's quote…and have slowly added other T-shirts with memorable cycling quotes to their line up.
When I came across these guys, I immediately loved the concept and what they had going on.  There are a lot of cycling t-shirts out there, but the ones from Stomach of Anger really capture the spirit and emotion of us cyclists.  I've got mine, and I want you to have one as well…..so here's your chance.
Contest Details:
Enter to Win a Stomach of Anger T-shirt of your choice…..and you might even come up with their newest product.
Okay, here's the deal.
First, we need you to check out the T-shirt options that Stomach of Anger currently have available (http://stomachofanger.com/buy).
Then we want to hear about your idea for a shirt that you think people would flip over.  Do this by leaving a comment below with your idea (be sure to include your name and e-mail so that we can notify you if your idea is selected).
Ideas will be taken up until 12:00PM EST Friday, January 7th.
The guys from Stomach of Anger will select the winning concept.
If they decide to actually produce it and put it up for sale, you'll get another free shirt with your concept design on it….How Cool Is That?