31 Day Do Good Challenge: Day 31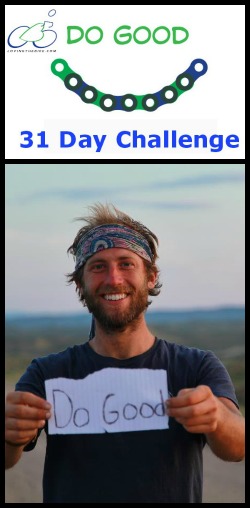 We've come to the end of our 31 Day Do Good Challenge.  I'd like to personally congratulate all of you who've stuck with this each and every day this month.  All of us are better for it.
So what's in store for the very last Do Good task?  Well, Rob has chosen for me to come up with the Day 31 challenge.
Okay, so how do I top all the great tasks that Rob has had us do each day?  Well, I get you to share this with the ones you love and those people in your circle of influence.
Day 31: Tell those around you what you've gained by doing this 31 Day Challenge, and then invite them to start with Day 1.
I'd like to send out a very special thank you to Rob Greenfield.  Over the past 6 months, he's become a friend and a personal inspiration.  I've said it before, and I'll say it again….he is like the Ghandi of our time.  Be sure to keep in touch with what Rob's doing and join him in spreading the Do Good message.
For more about Rob Greenfield be sure to follow him on Facebook.