#bikeschool: MET SineThesis Review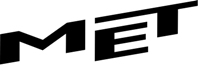 After the recent article here at LovingTheBike regarding the cleaning of your cycle helmet, I realised that I'd had my one and only bike helmet for about 5 years and maybe I was due for an upgrade. I used lots of reasons in my head to justify a new helmet but essentially it was a safety issue as my current LAS Kripton is getting old and has taken a few bumps and whacks along the way.
(ED: Please note that there will be no discussion in this article regarding whether you SHOULD or shouldn't wear a helmet… you SHOULD. Don't be an ass!)
Shortlist
I had two main requirements when searching the plethora of helmets on the market, firstly that it was comfortable and secondly it should look Pro. I'm easily distracted (I am after all a man-shaped human) and annoyances like an ill-fitted skid lid can easily turn a great ride into a slog, oh and I like looking good on the bike so the Pro look speaks for itself! Whilst perusing the various online cycle shops and checking out some of the Pro team's kit lockers it was clear that if you want top quality in a cycle helmet, you may want to talk to the bank manager about a re-mortgage option on your house! Which is why I was very lucky to get my hands on Met's top of the range helmet, the Sine Thesis. The story of how I got it will have to wait for another day but suffice it to say that my LBS owner and I are much better acquainted now and my wallet did not get abused!
Sine Thesis, Fit & Comfort

The Sine Thesis is Met's top of the range 'Pro Race' helmet, which is supplied to the Liquigas & Cofidis pro teams. The goal for Met when developing the Sine Thesis was not to just create an expensive, lightweight helmet, but to "have a very ventilated helmet with very few points of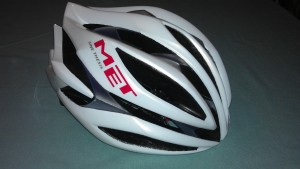 contact between the head and the helmet" as described by Matteo Tenni, MET's product manager. This aim is realised by what I'm sure will become a standard for all manufacturers at their top of their product range, Met's Gel02 system. But more of that in a moment. At first glance the Sine Thesis looks great. It looks mean, it looks Pro and above all, it looks breezy which is a nice feature to have. The 'matt white' version I have is by no means, boring. I wanted a plain white or silver helmet so it would 'go' with the vast range of posey club and pro-team kits I have without clashing but this helmet has a pearlescent effect that is just beautiful. It shines and bounces different colours off it and is a very nice thing to behold. (ED: Having proof read this post I am now seeing what you are all just realising, on the bike I am a vain tart… but I can live with that!)
As you would expect from an expensive helmet, it is packed with features and the related corporate blurb about how good these features are but there are, in my opinion, two outstanding parts to the product; the ICELite technology and the previously mentioned Gel02. ICELite is described as a:
Composite Exoskeleton, integrated into the In-Moulding process allowing structural performance beyond established standards. With deflectors allowing a 'acceleration of the ventilation
…which basically means it's a pretty breezy lid! Joking aside, it is a very well ventilated helmet which aims to give a flow of air even at slow speeds, when climbing say, which is often when the body needs the effects of cooling and ventilation the most. I have no idea how the deflectors work, I'm sure there was some wind tunnel testing and there are some strange-looking drawings and computer models that can be seen in the video below, but I know that the results have left me wondering how I have coped for so long using such an inferior helmet without my head catching on fire! One thing I would say regarding a helmet advertised as being so focused on cooling features is don't be scared of using it in less hospitable weather. As mentioned earlier, I am a man-sized human and thus bloomin' impatient. Do you think I was going to wait for warm weather and sunny conditions to take out my new helmet for its first ride… yeah right! No I took it out when it was around 5-6% celsius and it performed wonderfully. I thought I'd end up with a skull-cap made of ice but the natural heat produced from the fiery furnace of my inner-Merckx kept the flow of air toasty warm and very comfortable. My first experience was a delight and that is always pleasing.
I'm sure that the Gel02 system (or the equivalent) will soon be seen in many other brand's helmets as from the view of a casual observer, it seems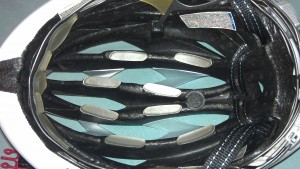 to be one of the most positive and innovative changes to helmet design in a long time. Met have done away with the fabric Coolmax padding found in the rest of their range and produced a gel strip/pad system that has two main qualities. Firstly it does away with that age-old problem of a soggy helmet. However much you sweat, when your lid is on you should feel quite comfy in it and it shouldn't cause you too much bother. Skip to getting back on the bike after the cafe stop and the soggy, wet, sweaty fabric pads in your helmet feel like putting your head into… a… well a sweaty thing, you get the picture. This was also the catalyst for the post Darryl wrote about helmet cleaning mentioned at the top. The Gel02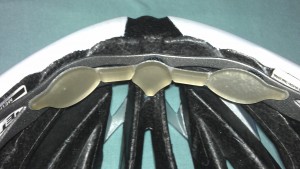 system of pads and strips means they do not soak up the sweat but, in the case of the cleverly designed forehead strip, channel moisture away from sensitive eyes and keep you feeling fresh. The pads also take the contact with your noggin-box down from 60% on the current Stradivarius road helmet, for example, to just 20%. Honestly, the feeling of the pads takes a little getting used to but it feels wonderful having such a light helmet 'perched' on top of you head knowing it is fitted and secure. The space left behind by the reduction in surface contact area only adds to the benefit you receive from the ICELite design. The only issue I can see that may arise is if on of the pads comes out and is lost, the helmet may not sit right and you can only buy the replacements in packs to replace all of them at the same time, potentially expensive if you only lose or damage one pad.
[vimeo]http://vimeo.com/24718556[/vimeo]
Verdict
The current £135/$210 price tag definitely puts the Met Sine Thesis up there as one of my more expensive pieces of bike equipment (lucky I know the LBS owner eh!?) but I believe it is well worth the money, which no doubt will be shown when other companies roll out their versions of Gelo02. I'm very happy with it and am sure it will give me many years of wonderful service. Everyone has their favourite brands so if you are a Bell or Giro fan for example and will only ever buy those products, congratulations on wasting the last few minutes of your life. If you are more open-minded and you enjoy quality products with form and functionality, try the Met Sine Thesis, I defy you to be impressed.
The Met Sine Thesis is awarded 4 out of 5 #bikeschool taco's
If you have a product you think is worth reviewing or you are looking to purchase a new piece of gear and want some advice, let us know…
Lead, follow… or get out of the way
Stevie