Bonaire Bike Holiday
Would you like to go cycling on and off road in Bonaire this winter?  Your Caribbean Cycling escape has arrived.  The price is incredible, the location is about as bikey exotic as you can get,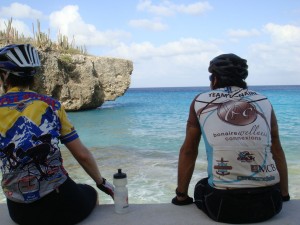 and where else would you rather be this February than Bonaire?
Bonaire is basically one incredible tropical oasis found in the southern Caribbean just off the coast of Venezuela.  It may be known as one of the best diving locations in the world, but seeing as this island is owned by the Netherlands….you just have to know that it's got some incredible bicycle culture as well.  For more information on Bonaire, including climate, currency (just happens to be US Dollar), and everything else you'd like to know…please visit: www.bonaire.org.
Airfare Not Included: The airfare to Bonaire might be a little higher than other tropical locations, but oh so worthwhile.  But you won't find a bicycle holiday like this one at a better price than what we have to offer.  For flight details from North America, contact Delta, Continental, and Insel Air.  For flight details from Europe contact KLM, Delta, and Continental.
Amazing Caribbean location, all the cycling goodness you can handle, and a week of non-stop fun times.
Bonaire "Loving the Bike" Holiday
Date: February 11 to 18, 2012 (other tour dates may be available, please contact [email protected] for alternate dates).

Package includes:
7 Nights Accommodations at Caribbean Club Bonaire – Located right on the Beach.  This friendly and beautiful resort is ideally situated and full of great services and amenities including restaurant, bar, two swimming pools, an on-site dive shop/activity center, front office and security services.  Rooms also include a small kitchen so preparing your own meals is an option for you.
Free Daily Breakfast
4 Days Guided Cycling Tours – Tours provided by Bonaire Bike Tours with local Bonaire guides.  Mountain Bikes and all equipment are included.
Road Cycling – Bring your own road bike and  take part in two guided tours (road bikes may also be available upon request).
Celebration Barbeque Party – Our last night in Bonaire will be spent celebrating like the locals with an island barbeque buffet and party….Beer and Wine included.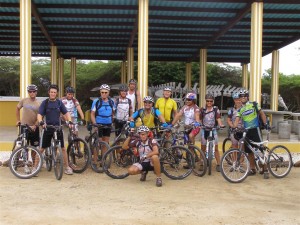 · Airport Transfers
· Bicycle + equipment for the entire holiday
· Guide + 6 mountain bike excursions
· Part-time Guides for specific activities
· Accommodations
· Daily fresh breakfast
· Room taxes
Not included:
· International airfare
· Meals not outlined in itinerary
· Any costs arising out of unforeseen circumstances such as bad weather, flight cancellations or any other circumstances beyond our control
Total Cost:
$849.00US (based on double occupancy)
$ 1,449.00US (based on single occupancy)
$139.00US  for Cycling Seminar Series Add-on –

As an incredible addition to your cycling holiday, take advantage of two amazing cycling seminars hosted by Victor Jimenez from Bicycle Lab.  One seminar will include topics such as "How Mountain Biking Can Improve Your Road Cycling" and the second seminar is on "How to Become a More Efficient Rider".  These seminars by Victor regularly are sold at over $100 per session and he's offering both for $139….it must be the thoughts of Bonaire that softened up my friend Victor.

Other Add-ons are available as well including Tour Excursions (Snorkelling, Scuba, Cave Tours, Islands Tours, Mangrove Kayak, Sunset Cruise), Car Rental, Upgraded Accommodations, Extended length of Accommodations and Bike Tours, Meal Plans, and more.  Contact

[email protected]

for details and prices.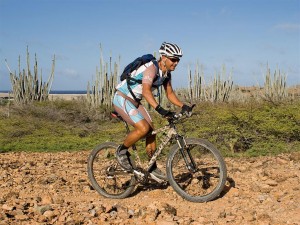 We'll take you through our beautiful island to really experience the outdoors, meet locals, eat our famous Bonaire's unique goat cheese and enjoy an adventure tour like no other. You'll experience Bonaire cycling at its best, traveling with our adventure guides and a few like-minded travelers. You will leisurely follow our professional guides and there will be intermittent stops along the way to learn about Bonaire's flora, fauna and natural history.
Our Bonaire cycling tours give you the chance to experience Bonaire biking like a local would. We've been cycling the roads, trails and routes of Bonaire for many, many years, so running cycling tours is something we take very seriously. On an ACTIVE BONAIRE bicycle tour you'll see the island, enjoy great exercise in crisp, clean air and enjoy the best cycling in Bonaire!
We've taken down the Paypal link for payment because space and accommodations for this trip may now be limited.  If you are interested in taking part in our Bonaire Cycling Holiday, contact [email protected] for more details.  We'd still love to have you.
Accommodations Photos:
More Bonaire Photos: