Every Water Bottle Tells a Story
How deep is the connection to your cycling water bottle?  I don't know about you, but I seem to have a story or something that comes to mind for every single one of my bottles.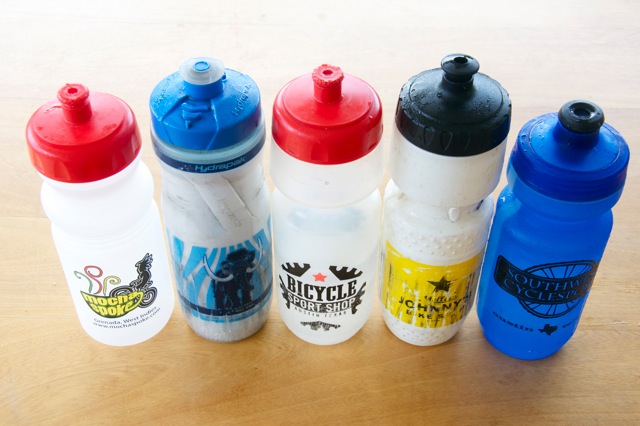 Other than the bike itself, the bottle is generally one thing that always comes along with you on a ride….so it makes sense for there to be some sort of connection to your hydration unit.
At the moment, the two bottles that come along are my Mellow Johnny's bottle and my Wooly Mammoth. Unfortunately I haven't been on a long enough ride lately to require the third bottle, but my next go to bottle is one from Nuun.
I'm not going to bore you with a long winded story on each bottle, but here's a brief explanation for a few of them.
Okay, so the first thing that comes to mind every time I sip from the MJ's bottle is the great life we lived in Austin.  Man, I sure do miss the cycling culture over there and stopping in at Juan Pelota for coffee with my Family.
I got the Wooly Mammoth from my man Scott over at Outside PR.  Their company does PR for several cycling companies, including Hydrapak and they've been very good to us over the years.  I finally got to meet Scott in person last year at Interbike, and was able to grab one of these bottles from him.
There's not a massive story behind my Nuun bottles….just shows off how cheap I am.  None of the bottles I own have ever been paid for, including the ones I got from Nuun a couple years back.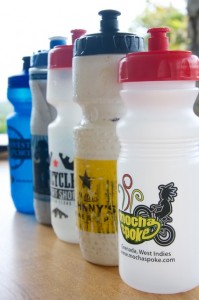 The water bottle stories extend down to my kids bottles as well.  My older Son 's current bottle features Southwest Cyclesport, my favorite Austin bike shop.  I explain why I like them so much in this post about getting my bike ready for Grenada.
The Austin bike shop love continues with my youngest Son and his Bicycle Sport Shop bottle.  That bottle brings back good memories because it reminds me of going to the premier for Reveal the Path (a life-changing movie for more than just cyclists) with my older Son.  It was a great movie, and loved that I got to meet Mike Dion who made the film.  Best of all, I got to enjoy it with my best buddy….and everyone in the audience received one of these bottles.
My youngest Son actually has two bottles that he uses.  The other one is very significant as it's a Mocha Spoke water bottle.  Seeing your company logo on a water bottle is pretty freaking awesome, and my baby boy feels super cool with his Daddy's bicycle café on his bottle.