Four Types of Cycling in Belize
I have spent most of June chilling (and cycling) around the country of Belize.  A lot of people have never heard of this place or know where it is, and those that have probably don't think of cycling when they refer to the country.  Little does the world know that cycling is huge over here….like a staple in the countries' diet.  Very cool.
That's right, in Belize it's definitely about more than just the bike.  Over here, a bike is so much more than just two wheels on a frame…..and such an important ingredient to the daily lives of the people.  The bike also means something different to everyone who lives here, and they each have their own reason for Loving the Bike.  The bike serves many purposes, with the following being the most popular.
1.  Transportation of People
The obvious purpose is transportation, but it becomes so much more than that.  Of course there are countless people who have a bike as their only vehicle and rely on it to take them everywhere.  It doesn't matter if you're a child, adult, policeman, or librarian….to many, the bike is all they've got.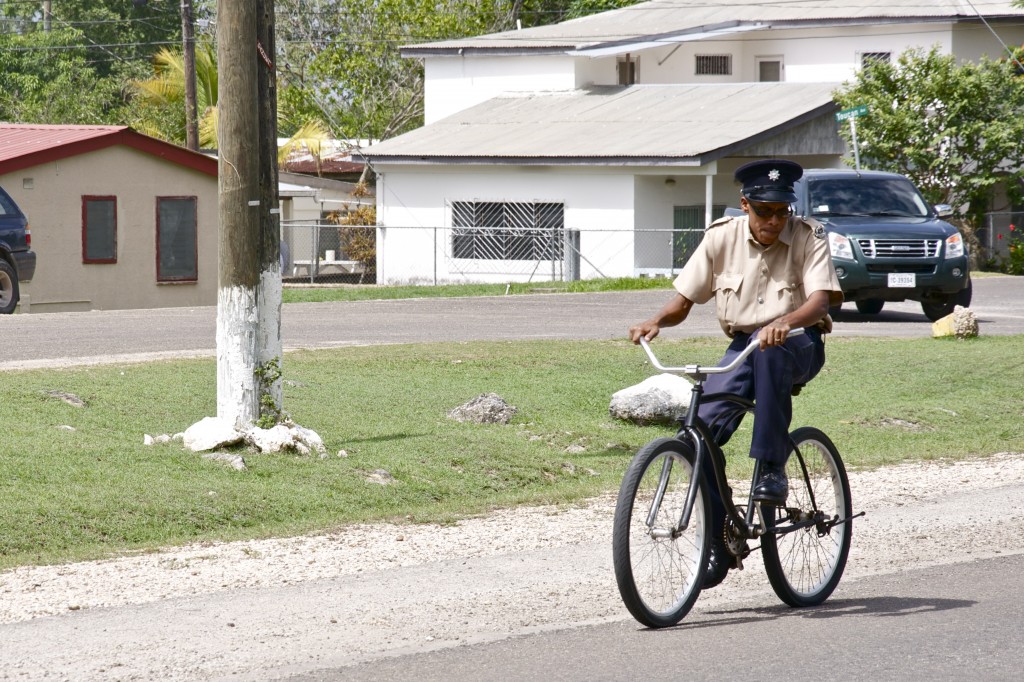 But many of these people also have kids and they use that same bike to carry their children while they ride.  Oh, and the chariots and bike trailers many of us are used to?  That would be a total luxury ride over here.  The way the kids ride with their parents is almost like a special skill acquired by the locals.  As you can see in this photo, the kids straddle the cross tube as their Mom or Dad pedals the bike.  I'm telling you man, these road here in Belize are far from smooth and I can't even imagine bouncing around as my butt sits on a skinny metal tube.  But they do it….and they do it for miles.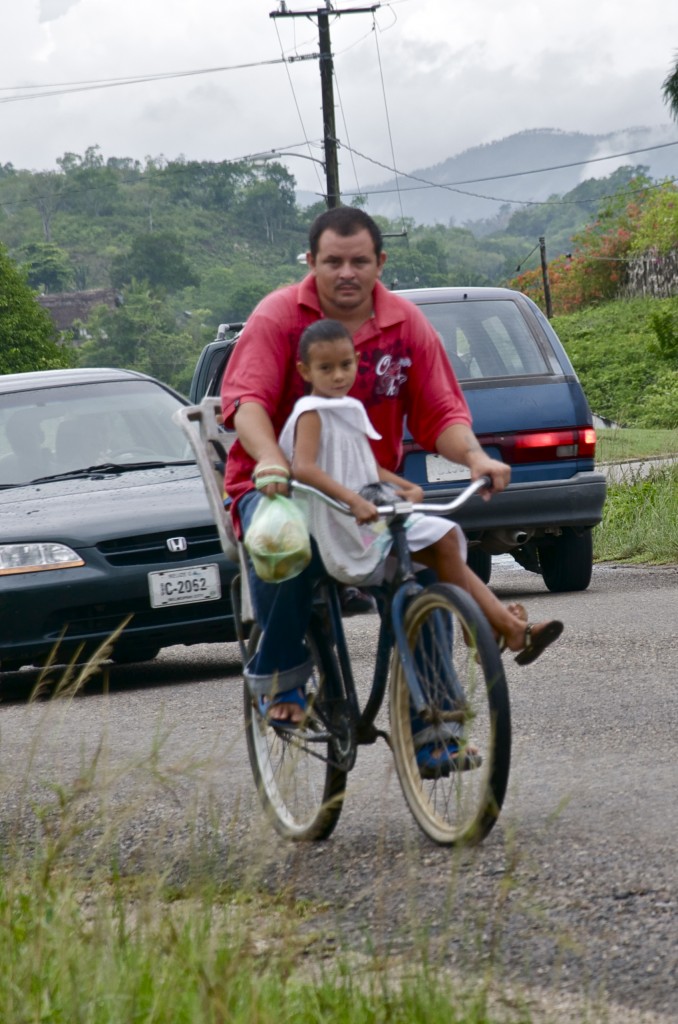 2.  Transportation of Goods
Now when you think about hauling stuff with your bike, you probably think of a bike like an Xtracycle or pulling a utility trailer behind as you ride.  Once again, those luxuries are not an option in Belize so the people have to get creative….and even downright crazy.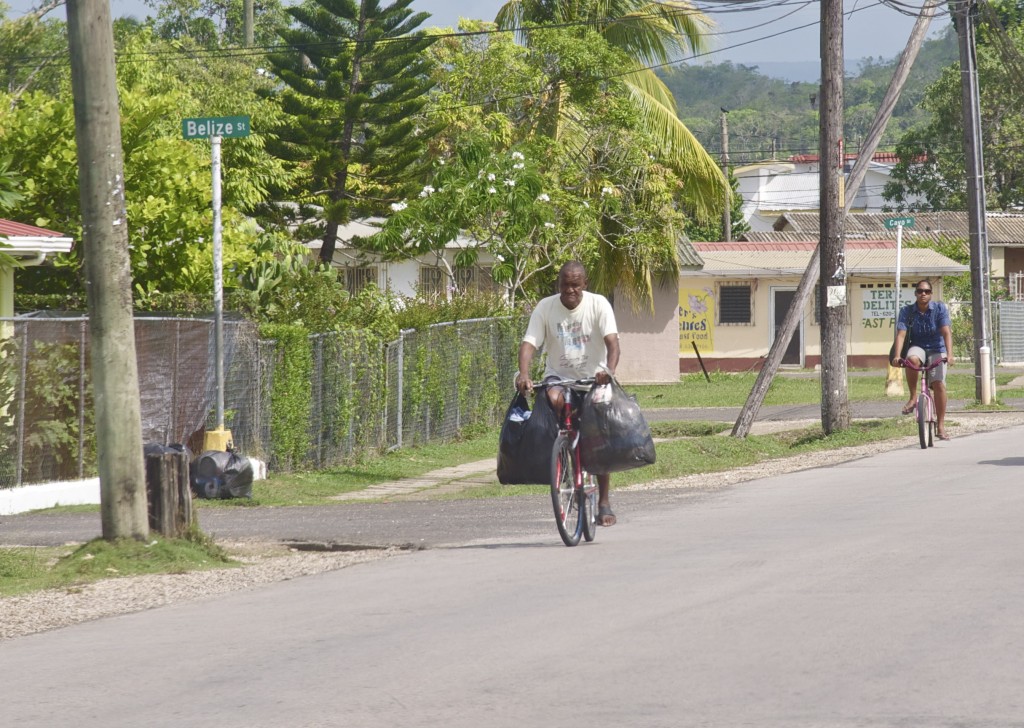 I've seen a few people cycling in Belize who have so many bags and things piled up on their bikes, that you can't even see who's riding.  Yeah, when there is no other option these people find all kinds of ways to just make it work.  Plants, garbage bags, racks, televisions…..yep, there's nothing that a person won't try to carry while riding their bikes in Belize.
3.  Business
I find it very cool that many people use a bike for the purpose of business.  They don't have Petticabs like many of us have seen in North America, which is a very cool use of bikes to do business….but they do use them for a variety of money making opportunities.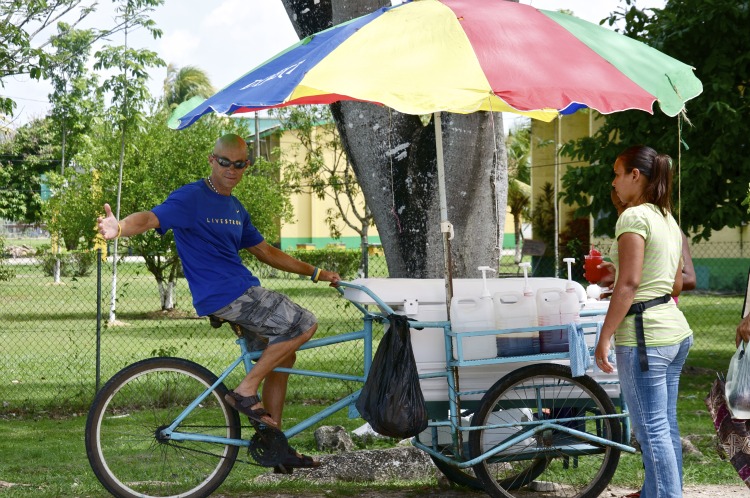 One of the greatest uses I saw in Belize was the bicycle sno cone business.  I think they actually called it shaved ice, but there were a bunch of people with these custom made bikes used to sell a nice cool treat to everyone around.  You know I just had to get in there and give one of these bad boys a spin, right?
4.  Competition
Ahhhh, then there is the good old use of bikes for competition.  From what I've mentioned so far about how bikes are used in Belize, you're probably thinking that they have some sort of funky way of racing over here as well.  No way.  Road cycling is huge in Belize, and the racing you'll find is second to none.
Cycling is treated with respect in the country and the Belize Cycling Association does an incredible job of developing riders and putting on races.  Just last weekend was the National Championship race which is only open to citizens of Belize.  At other times of the year Belize holds races that are open to anyone who qualifies, with the annual Holy Saturday Cross Country Classic being the most popular.  This is a 140 mile road race that brings competitors from around the world….and pretty much shuts down the country while it's being held.  They take their cycling seriously in Belize….and are cranking out some incredible riders.
Unfortunately the one thing I didn't see a lot of in Belize is helmets.  I'm used to seeing locals ride around on their cruisers without helmets, but I have never seen so many road bikers with nothing on their heads.  During competition, they wear them but I saw countless cyclists out on training rides without helmets and it was such a strange site to see.
The roads of Belize (even the best ones) are nowhere near in the condition of those we're used to in other parts of the world, but compared to other third world infrastructure I've ridden on, these are pretty darn good.  Scary, but good.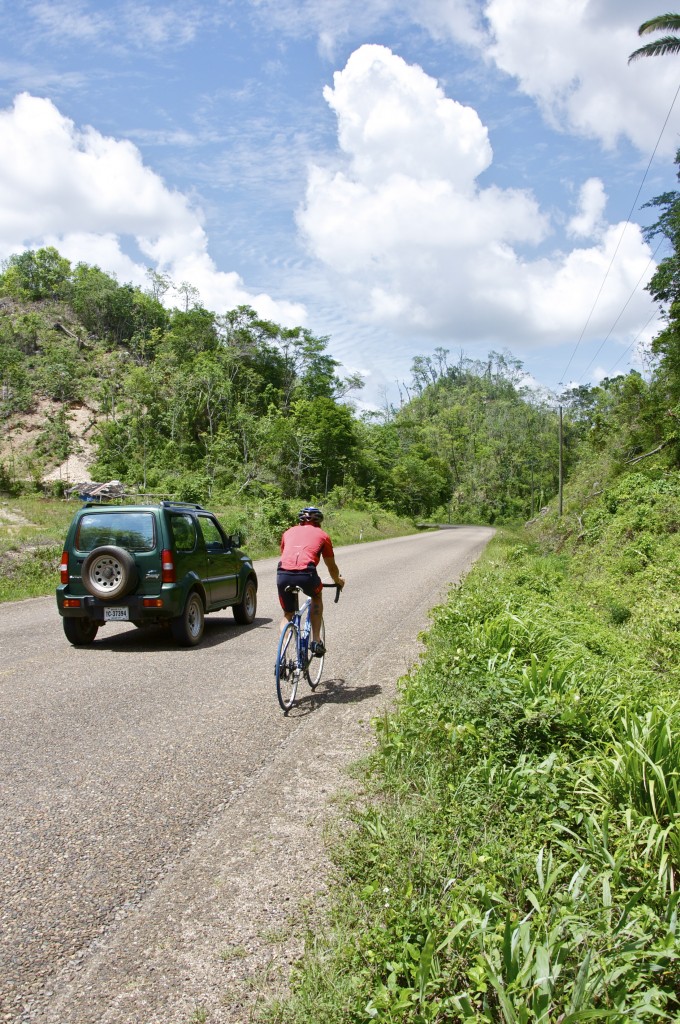 Are you interested in cycling in Belize?  Have you ridden there?  Let me know what questions or comments you have about Loving the Bike in Belize.