How Do You Measure a Year?
As the world reflects on the year that was, I wanted to take a moment and sum up 2010 Loving the Bike style.
2 websites launched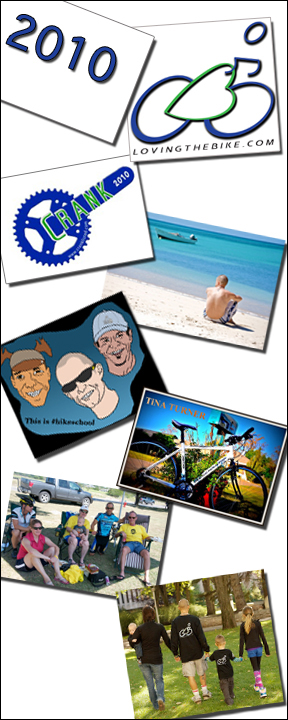 1,479 twitter friends
1 direct tweet from @lancearmstrong
247 Facebook friends (yeah, I'm going to have to spend more time on there in 2011)
1 awesome bike fit (Thanks @bicyclelab)
5 Countries visited
Over 11,000kms on the bike
2 great partners, @egggman and @bikerly, who helped create #bikeschool
Loving the Bike T-shirts now worn in 5 different Countries
1st ever Crank Listed "World Cycling Blog Honors"
197 posts on lovingthebike.com
Our family increases to 5
Came about 950,000 hits shy of matching what my man, Cycling Tips got this year. Whoa, that dude is rocking the Cycling Blogs.
2 Countries lived in
1 wasp sting to the head
1 new bike
4,309 photos taken
Along with 5,400 other participants in Austin, helped raise $3,100,000 in the fight against cancer
Stepped foot in 7 States and 2 Provinces
Countless great friends, new relationships, and connections made all because of 1 personally satisfying website
Happy New Year to each and every one of you.  Big Things Happening in 2011.